Hainsworth Murals
A celebration was held on Tuesday 9th June to officially unveil the murals at the Hainsworth Community Centre.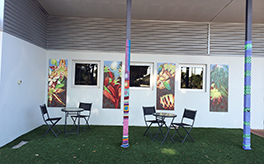 These murals were a joint project between a local artist, Celestin Hutchinson, members of the Hainsworth Youth Group and students of the Emmanuel Christian Community School.
They make a beautiful addition to the front courtyard at the centre.
Yanchep Play Area
This project is currently underway with an artwork being created by Perth artist, James Foley
Future projects will include a mural planned for Quinns Beach