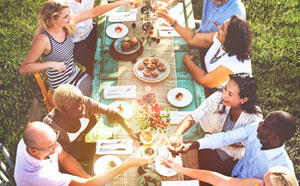 Come along to one of the City's Community Information Sessions and find out how to turn your local ideas into action and how the City of Wanneroo can provide you with support along the way.
The sessions are FREE and bookings are essential. Light catering and refreshments will be provided.
January - March 2017 Information Sessions
Community Funding Information Sessions
All you need to know about lodging a community funding application to support your community project or event.
Starting a Walking Group
Do you want to take the first steps towards becoming a walk leader in your local area? Come along to find out what support is available to help you turn your idea into action.
Know your Neighbour
Hosting a simple event can be a great way to get to know others in your area! Discover what the City can offer to make your activity fun and worthwhile.
Garden Workshops
Come and learn from the gardening gurus how to grow a sustainable and vibrant garden. The City of Wanneroo together with City Farm and Beyond Gardens are hosting a series of gardening workshop. Learn about the best plants to use for the upcoming season. Get tips on saving water, the best ways to fertilise, mulch and control those annoying garden pests.
For more information on the workshops and to make a booking click below.
Community Information Sessions January – March 2017
April - June 2017 Information Sessions
Keep Calm and Volunteer
Ever wanted to volunteer but not sure where to start? Come along to find out what is happening in your community and how you can get involved.
Verge Gardens
Verge gardens have become an increasingly popular form of community gardening. Find out how your verge can become a waterwise and sustainable garden on your verge.
Forming a Community Group
Belonging to a community group is a great way to connect with your community. Discover how to set up a successful group and what support is available.
Project Planning
Do you have a great idea for your community but don't know where to start? Come along to find out how you can turn your idea into action.
For more information on the workshops and to make a booking click below
Community Information Sessions April – June 2017
For further information, please contact your local Place Development Facilitator or email: connectedcommunities@wanneroo.wa.gov.au
North Coast Ward enquiries - Caroline Dewey 9405 5929
Central Ward enquiries - Scott Shearer 9405 5937
South Ward enquiries - Lisa Lortan 9405 5952