Home
2020 Great Cocky Count Information Session
2020 Great Cocky Count Information Session
Date: 4th March 2020
Location: Banksia Room, Wanneroo Civic Centre , 23 Dundebar Road, Wanneroo
Time: 18:00 - 19:30
Cost: FREE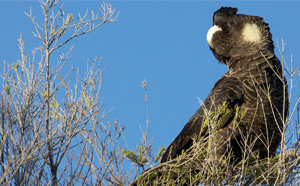 Every April, the Great Cocky Count (GCC) counts as many Black-Cockatoos as possible across WA on a single night.
The Great Cocky Count is a long-term citizen science survey and the biggest single survey for black-cockatoos in Western Australia. On one night in autumn, volunteers monitor known roost sites and count black-cockatoos as they come in to their evening roosts. Records submitted from across the southwest provide a snapshot of black-cockatoo populations, and over time this has helped us quantify the changes in black-cockatoo numbers.
This year, the GCC is on Sunday 5 April 2020 with registrations closing on Sunday 15 March.
For more information or to register go to the Birdlife Australia website, or come along to a free information session to learn how you can participate.
Information session
When: Wednesday 4 March // 6pm to 7:30pm
Where: Banksia Room, City of Wanneroo Civic Centre, 23 Dundebar Road, Wanneroo
To register, call the City's Conservation Team on 9405 5000 or email: conservationmaint@wanneroo.wa.gov.au
February 2020

Prev month Next month

The green box highlights today's date and the dates with buttons have events happening on that day.

| Mo | Tu | We | Th | Fr | Sa | Su |
| --- | --- | --- | --- | --- | --- | --- |
| | | | | | 01 | 02 |
| 03 | 04 | 05 | 06 | 07 | 08 | 09 |
| 10 | 11 | 12 | 13 | 14 | 15 | 16 |
| 17 | 18 | 19 | 20 | 21 | 22 | 23 |
| 24 | 25 | 26 | 27 | 28 | 29 | |
Discover more events