We are currently experiencing issues with the website search engine. This is currently being looked into and we apologise for any inconvenience.
Home
Introduction to Mandala Drawing
Introduction to Mandala Drawing
Date: 11th October 2017 - 25th October 2017
Every day
Location: Girrawheen Library, 6 Patrick Court, Girrawheen
Time: 13:30 - 15:00
Cost: FREE but registration essential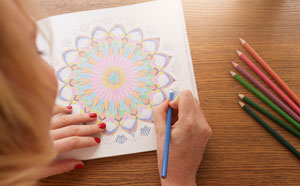 Mandala drawing is a simple yet highly effective and relaxing form of design making.
Each design is an individual expression of yourself. Elsa Smith will facilitate these workshops. All materials supplied.
11 October - Introduction to Mandala Drawing
18 October - Collage Mandala with Beautiful Paper
25 October - Group Flower Mandala
FREE event - Bookings essential
Enquiries 9342 8844
Discover more events