Home
Self-directed workshop: Write your own migration message
Self-directed workshop: Write your own migration message
Date: 25th August 2018 - 7th October 2018
Every day
Location: Wanneroo Library & Cultural Centre, 3 Rocca Way, Wanneroo
Time: 13:00 - 16:00
Cost: FREE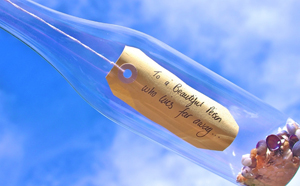 Life is a bottle of memories… so fill it with things worth remembering!
Contribute to artist Claire Davenhall's artwork, 'Migration Messages' in a bottle, by writing a message to a beautiful person who lives far away… and share your message via the global community.
Image: Claire Davenhall, 'Migration Messages 2013'. Plastic wine bottles, flotsam & jetsam, textiles, luggage tags, shipping chain, fishing rope.

Discover more events