Home
Outdoor Cinema 'Rampage' - ages 13 to 16 years
Outdoor Cinema 'Rampage' - ages 13 to 16 years
Date: 25th January 2019
Location: Jacaranda Amphitheatre - Civic Centre, 23 Dundebar Road, Wanneroo
Cost: FREE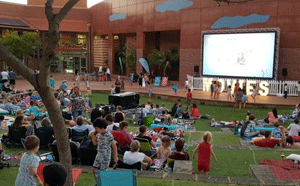 Movie night with friends.
Grab some rugs, snacks and friends and come and enjoy an evening of movies.
Rampage (M)
Join primatologist Davis Okoye (Dwayne Johnson) and his extraordinarily intelligent albino silverback gorilla as they battle against mutated alpha predators that are tearing across North America, destroying everything in their path.
Booking
FULLY BOOKED
If you require further information or need help with your booking, please contact the Youth Services team on 9405 5000.
Discover more events