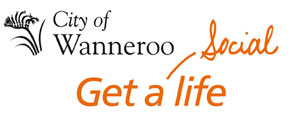 The City of Wanneroo runs a number of community programs to promote social opportunities. See below for existing programs near you:
Getting to know your neighbours.
The City understands that the first step to creating friendlier and safer neighbourhoods is getting to know the people in your local area.
To assist with this we are currently working to develop a great program to help you build connections and organise gatherings in your neighbourhood. In the meantime, feel free to visit the Getting to know your Neighbour page for some other useful resources to assist in creating social opportunities in your neighbourhood.
Growing Old and Living Dangerously program
The Growing Old and Living Dangerously (GOLD) program provides a range of exciting and challenging activities for people aged 50 years and over, living in the City of Wanneroo.
GOLD brochure Summer 2019/2020
You will need to register as a GOLD member to participate in any activities. Contact us on 9405 5000 or email: programs@wanneroo.wa.gov.au to join
City of Wanneroo residents can call 9405 5000 from 8:30am, Wednesday 13 November 2019 (non City of Wanneroo residents can register from 8:30am on Thursday 14 November 2019)
Call 9405 5000 to register and obtain a booking number, this is used when completing the registration form found in the program
The completed registration form must be returned to the City of Wanneroo, with full payment, 5 working days after you receive your booking number
For more information about current activities and how you can be a part of the GOLD program please call 9405 5000 or email: programs@wanneroo.wa.gov.au
Group Art Classes, Hainsworth Centre
Do you love to paint and create? A social art group is starting at Hainsworth Community Centre. Come down and work on individual and group projects in our friendly centre.
When: Mondays 10:30am to 3:30pm
Cost: $5 a week
Contact: Christine on 0409 680 958