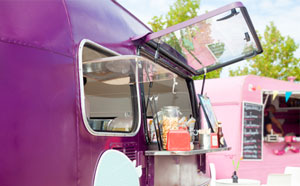 Food Truck Trial Feedback
We are looking for your feedback on the Food Truck Trial. Please click below to complete our online survey.
Food Truck Trial online survey
Information and Locations
Two models of operation are being trialled. The first model involves one operator coordinating food trucks on a fortnightly basis at Blackmore Park in Girrawheen, Highview Park in Alexander Heights and Shelvock Park in Koondoola in the South ward.
Information and locations for Model One
The second model involves a limited number registered operators trading in approved zones at specific times with potential sites including Avondale Park in Mindarie, Goal Way in Madeley, Mintaro Park in Quinns Rocks, Neville Park in Wanneroo and Warradale Park in Landsdale.
Information and locations for Model One
The City identified suitable sites based on the following criteria:
Located a minimum 500m from an existing food outlet (including commercial and club run canteens);
Located away from community facilities to avoid parking conflicts and disruptions to facility hirers;
Easy access from main roads;
Proximity to residential housing; and
High visibility to maximise passing trade.
Members of the community are encouraged to suggest alternative locations, by emailing: facilitybooking@wanneroo.wa.gov.au
Chosen trading times minimise the potential conflict and impact on existing commercial and community interests including sporting club training and competition days.
Interested in applying to become a registered food truck operator in the City?
Download the Food Truck Trial application form below:
Food Truck Trial application form
Please send Food Truck Trial application forms to health@wanneroo.wa.gov.au.
All food trucks must have an existing Food Act 2008 Registration Certificate from their Local Authority and obtain a trading licence from the City of Wanneroo to participate in the trial.
The City may choose to amend aspects of the trial which may include:
Removal or addition of food truck trading sites;
Alteration of food truck trading times; and
Early conclusion of the food Truck Trial
Click below to view the two models being trialled:
Food Truck Trial Guidelines
Click below to view the City of Wanneroo Food Truck Trial guidelines: