Three Bin Kerbside Collection System FAQs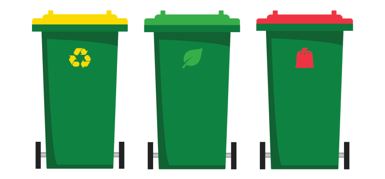 What's happening to my bin service in the City of Wanneroo?
Residents currently have two bins at their home – a dark green domestic waste bin and a yellow lid recycling bin. The City of Wanneroo will be introducing a third bin within the next couple of years. Everyone with a residential kerbside bin service will receive a lime green lid bin for food organics and garden organics (FOGO). This bin will be the same size as your current bins (240 litres).
What is the FOGO kerbside collection?
FOGO stands for Food Organics, Garden Organics. It is the collection of food scraps, as well as natural material from your garden to create high quality compost. A handy way to think about FOGO is "if it wasn't alive or didn't grow, it's not FOGO".
Does this mean I will need to put all my green and food waste in the same bin?
Yes, both food organics and garden organics (green waste) will be placed into the same lime green lid FOGO bin.
Why are we changing to a new bin system?
A three bin system is an easy way for residents to actively make a positive difference to our environment. A new bin for organic waste lets residents make better choices about how to dispose of their waste. It will also allow potentially valuable resources to be processed into Australian standard compost.
The new bin system will allow the City to recover more waste as a resource, reduce waste to landfill and reduce the cost of waste management.
The City of Wanneroo will also be one of the first local governments to meet the State Government's Waste Avoidance and Resource Recovery Strategy 2030 target of introducing a three bin FOGO kerbside collection system.
Why wasn't I consulted about the plans for three bins?
The City of Wanneroo invited residents and ratepayers to take part in a Waste Services survey from May to June 2018 to help the City understand the community's preferences for the future of waste management.
The survey was advertised on the City's Facebook page, website, newspaper articles, as well as newspaper and radio advertisements.
A direct mail invitation was also randomly sent to 1500 City residents inviting them to participate in an online survey.
The survey results were shared on the City's website in August 2018 when results of the Waste Services review went to Council.
A full copy of the waste survey results are available on the City's website at www.wanneroo.wa.gov.au/wasteservicessurvey2018.
When will the new service start?
A start date is still to be determined. The City hopes to introduce the new service in the 2020/21 financial year. Households will receive further information about the service in the lead up to the roll out.
What will I be able to put in each bin?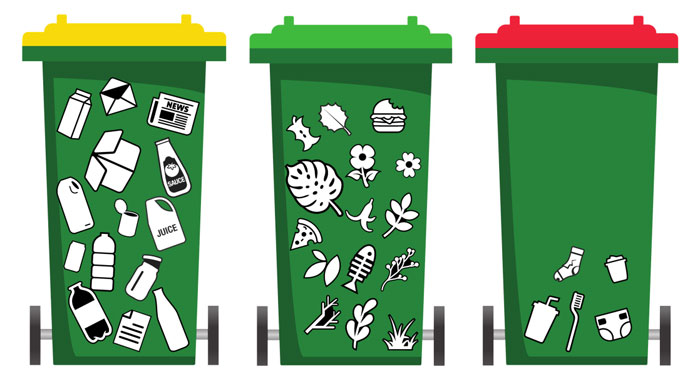 The three bin system that the City of Wanneroo is introducing will be different from the bins in the City of Joondalup and the City of Stirling.
Lime green lid bin - FOGO: All food organics (raw and cooked) such as vegetable peelings, meat, bones and shells, and small garden organics such as lawn clippings, prunings, weeds and leaves. This bin will be composted so it's important to keep plastic and glass out of this bin. Remember – if it wasn't alive or didn't grow, it's not FOGO.
Yellow lid bin - recycling: Recyclable materials such as paper, flattened cardboard, aluminium and steel cans, glass and plastic bottles and containers.
Red lid bin - residual waste: General rubbish items that cannot be composted or recycled such as nappies, meat trays and hygiene products.
Do I get a say on the size of my bin?
In May/June 2018, the City conducted a community survey asking residents their thoughts about the future direction of waste management. 75 per cent of respondents wanted to introduce a third bin for the disposal of organic waste.
All households will receive the three bin system, but the City of Wanneroo understands that households have different needs. To help you get the most out of your kerbside bin service, households will be able to make some decisions about what bin combinations will suit your family's needs, by choosing the size of your recycling and rubbish bins.
| Bin lid colour | Collection | Disposal | Size |
| --- | --- | --- | --- |
| Green | Weekly | Food organics and garden organics | 240L |
| Yellow | Fortnightly | Recycling | 240L or 360L |
| Red | Fortnightly | Rubbish | 140L or 240L |
Once the roll out date of the three bin system is confirmed, households will be able to register their preferred bin combinations. Support will be available to assist you in making this decision.
Will having three bins mean costs such as rates will go up for residents?
No, there will be no extra costs to residents for the three bin FOGO service.
The cost of composting the separated FOGO material will actually be less than what the City currently pays for waste processing.
This saving is expected to cover any increased service delivery costs, such as new bins and transport. The City has also applied for funding from the State Waste Authority to reduce the cost of introducing the FOGO bin service.
It is important to note that all of the City's costs to deliver waste management services to residents are paid for within the Waste Service Charge, which is a separate charge to general rates. This means that residents can see exactly what it costs for waste services.
Will I still get a bulk greens verge collection?
Yes. Bulk greens verge collections will continue as usual for the foreseeable future.
Our household doesn't have much food or garden waste; do we still need the FOGO bin?
Yes. The three bin system will be the new standard waste service which means that every household will receive three bins.
We encourage you to continue to compost at home, however you can use your lime green lid FOGO bin for things you can't put in your home compost bin such as bones, meat and seafood.
I've seen the three bins in the City of Joondalup and the City of Stirling. Is this the same thing?
The Cities of Joondalup and Stirling have introduced a three bin system but their lime green bin is for garden organics only.
The City of Wanneroo's three bin system will be different. The lime green bin will be for garden organics as well as food organics such as bones, food scraps and vegetable peelings. This will help the City of Wanneroo maximise the amount of waste being saved from landfill and turned into quality compost.
More information about how to use the new bin system will be provided to all households to help you get sorted.
Why do the Cities of Joondalup and Stirling not require residents to put food waste and greens in the same bin?
The City of Wanneroo's new kerbside collection system is based on the latest research with City of Wanneroo residents and is in complete alignment with the State Government's newly published Waste Strategy.
How can I register for a larger recycling bin?
Thank you for being a passionate recycler. At this stage, residents are not yet able to register to receive a larger 360 litre recycling bin. After Council agreed to approve the implementation of the Three Bin Kerbside Collection, the City has commenced designing how the roll out will take place. Once these details are finalised, the City will broadly communicate with residents how to register for a larger recycling bin.
What bin should I place my gas bottle in?
Gas bottles and other hazardous materials should never be placed into bins.
City of Wanneroo residents can continue to dispose of their household hazardous waste for free at either the Tamala Park Recycling Centre or the Recycling Centre Balcatta.
For more information about how hazardous waste types such as paint tins, chemicals and batteries should disposed of, visit www.wanneroo.wa.gov.au/hazardouswastedisposal.
What's the point in recycling? I've heard it just gets sent to landfill or dumped overseas?
The City of Wanneroo's contractor is responsible for recycling your collected materials as a condition of their contract, and has given the City assurances that all clean recyclables that are collected from homes are forwarded on to reputable overseas re-processors to make new products.
The global recycling market is changing and the City is supportive of the State Government's commitment to the development of local recycling and reprocessing facilities.
Many people may not realise that it actually costs more to send material to landfill than it does to recycle it, which is why the City is looking at ways to help residents recycle more.
However it is always important to recycle correctly as contaminating your recycling bin with non-recyclable items increases costs.
Shouldn't the City be creating local jobs, not outsourcing the recycling process?
The City has developed a transition plan to offer residents an opportunity to become more responsible for their own waste as cost effectively, sustainably and as close to home as possible.
Under the proposed plan, development of infrastructure within the boundaries of the City will reduce transport costs, increase the efficiency of services and help generate local jobs for local residents.
Currently, City's Waste Services team is comprised of 65 staff, a fleet of 50 vehicles and 10 trailers.