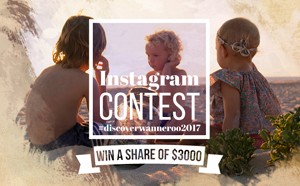 SHOW US YOUR UNIQUE WANNEROO!
ENTRIES OPEN 20TH FEBRUARY 2017 AND CLOSE 31ST MARCH 2017
Discover Wanneroo in 2017! The Wanneroo region, located on the stunning Sunset Coast, boasts unique landscapes and stunning attractions for all to enjoy.
Take your camera or phone and snap away as you discover Wanneroo's picturesque beaches, amazing wildlife, wonderful bushland and historic buildings, or anything you believe reflects the best of what Wanneroo has to offer!
Photographs will be judged on their ability to capture the unique characteristics of the area, composition, focus, use of light, and creativity. Help us promote Wanneroo and your work may even be featured in our 2018 calendar.
Who can enter?
The competition will be open from 20 February 2017 and close at midnight 31 March 2017
The competition is free and open to all residents and visitors of the City of Wanneroo
The competition is open to all professional and amateur photographers
How do I submit my entry?
Entrants simply need to follow @cityofwanneroo on Instagram, post an image using the hashtag #discoverwanneroo2017, and add a description or a hashtag saying where the photo was taken.
Prizes Categories
Mayor's Choice - $500
Most Likes - $500
General
Adult 1st - $500
Adult 2nd - $400
Adult 3rd - $350
Youth 1st - $350
Youth 2nd - $250
Youth 3rd - $150
*Entrants can win a maximum of one prize per person
Important information