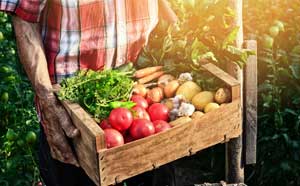 Northern Suburbs Community Food Network
Growing our own fruit and vegetables is a great way to have access to, and can motivate us to eat, more fruit and vegetables. It also gives as an opportunity to get involved with the community and meet more friends. Studies show that belonging to a network of like-minded people increases our levels of happiness and improves our mental wellbeing.
The Northern Suburbs Community Food Network is a group of people and organisations that are passionate about their community, healthy eating and fresh fruit and vegetables. This year the group will be focusing on food being grown by locals in the City of Wanneroo. Projects will concentrate on community food growing projects, community education around small-scale back yard food growing and fresh food relief for the community.
If you're an expert or have no knowledge at all; are part of an organisation (we encourage to get your whole group involved!) or an individual; want to be greatly involved or just learn and contribute a little; either way, we would love for you to get involved.
If you would like to be part of this great project please call the City of Wanneroo's Healthy and Inclusive Communities team for more information and to register your interest.
Food Sensations for Adults
Food Sensations is a nutrition and cooking program designed to give participants a good understanding of healthy eating as well as skills in how to purchase and prepare healthy foods. The program is designed to provide a hands-on learning experience.
Food Sensations for Adults is a 4 session program (no individual or one-off sessions) which covers a variety of nutrition topics. Each session will run for approximately 2 hours each.
The core topics are:
Basic Healthy eating
Label reading and food selection
Meal planning and budgeting
Food safety, preparation and cooking
The first 3 sessions will include 1 core topic and cooking. The final session (4th session) will include 1-2 optional topics. The optional topics are lunch boxes and healthy snacks, supermarket tour, healthy mind and healthy body and also gardening for health (where available)
These workshops can be arranged for interested groups as required. If you are interested in hosting a workshop series, or having one held near you, please contact the Healthy and Inclusive Communities team on 9405 5000.
To find out more click below.