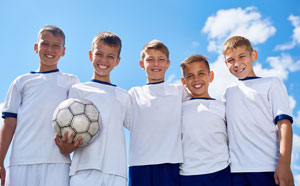 Junior soccer - Term 4
Our Term 4 Junior Soccer competition is currently FULL!
Exciting times lie ahead for the junior comps! Stay tuned for more information regarding Term 1 2019. Term 1 kicks off on Monday 4th February 2019
Cost:
$50 per game
When:
Monday afternoon // 4:00pm - 6:00pm
Age Groups:
Under 9s, under 11s, under 13s, under 15s, under 17s
How to register
To take part simply fill in our junior team nomination form below which will automatically be sent to Kingsway Indoor Stadium.
Junior Soccer Competition House Rules
For more information contact:
Zoe Bell
Phone: 9405 5236
Email: zoe.bell@wanneroo.wa.gov.au