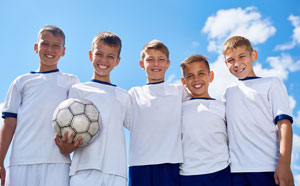 Junior soccer - Term 4
Our most popular Junior Soccer Term returns in 2018. Last year we had 22 teams nominate to play at Kingsway and we are hoping for more this time around!
Kingsway is a fun, friendly and safe environment to play soccer throughout the school term. Get your children's friends together and create a team for our Term 4 competition.
Cost:
$50 per game
When:
Monday afternoon // 4:00pm - 6:00pm
Age Groups:
Under 9s, under 11s, under 13s, under 15s, under 17s
Term 4 games start Monday 8 October 2018.
How to register
To take part simply fill in our junior team nomination form below which will automatically be sent to Kingsway Indoor Stadium.
For more information contact:
Max Hallas
Phone: 9405 5236
Email: max.hallas@wanneroo.wa.gov.au