Home
Green your neighbourhood with community planting
Published Friday, 25th May 2018
Local residents can play their part in greening the City of Wanneroo with the upcoming winter community planting events.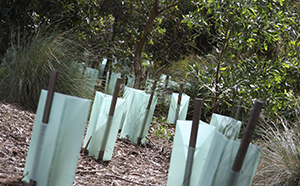 With more than 4300 groundcovers, shrubs and trees to be planted, residents are encouraged to join the City's Conservation team and volunteers to help rehabilitate natural areas and improve biodiversity.
Wanneroo Mayor Tracey Roberts said the planting events will take place in Madeley, Two Rocks and Quinns Rocks this year, the latter coinciding with National Tree Day.
"The annual community planting events are a great opportunity to get out and discover more about your local area," Mayor Roberts said.
"Not only are you contributing towards a greener future, you will meet your neighbours and fellow community members."
Event details:
Rufus Park, Madeley
Sunday 17 June: 9am - 11am
Held in conjunction with Friends of Rufus Park
Meet at the reserve on Rufus Parkway opposite Louis Vista, Madeley.
Morning tea will be provided.
Forrest Grove Park, Two Rocks
Sunday 8 July: 9am - 12noon
Meet at the reserve on Forrest Grove, Two Rocks.
Morning tea will be provided.
James Cook Park, Quinns Rocks
Sunday 29 July: 9am - 1pm
National Tree Day
Held in conjunction with the Quinns Rocks Environmental Group.
Meet near the playground on James Cook Avenue opposite Sirius Ramble, Quinns Rocks
A light lunch will be provided.
Please bring gloves, a trowel, water bottle and wear sturdy enclosed shoes. Registration for these events is essential.
For more information or to register for these events please contact the City's Conservation team on 9405 5000 or email ConservationMaint@wanneroo.wa.gov.au.
More articles in the news archive.