Home
City welcomes METRONET Yanchep rail announcement
Published Tuesday, 10th July 2018
City of Wanneroo Mayor Tracey Roberts has welcomed METRONET'S announcement that the Yanchep Rail Extension project can progress to the next phase.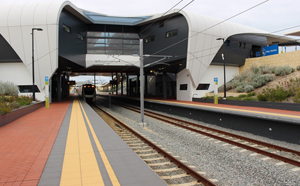 The next phase will secure procurement for the project's construction, with works expected to commence in 2019.
Mayor Roberts said this marked an important milestone for the City of Wanneroo. "The City of Wanneroo has been passionately campaigning for the rail extension to Yanchep for several years and we are thrilled that it's a step closer to becoming a reality," Mayor Roberts said.
"When complete, the rail extension – together with the new freeway extension – will provide essential transport links to connect our residents in the northern suburbs of Alkimos, Eglinton, Two Rocks and Yanchep with the rest of Perth," she said.
"I am pleased that the State and Federal Governments recognise the challenges faced by our growing communities in the north, and are investing in vital infrastructure that will service our residents now and into the future."
The City of Wanneroo's current population of 208,000 is set to reach 400,000 by 2036, including significant growth in the northern coastal corridor.
As part of the rail extension project, train stations will be built at Alkimos, Eglinton and Yanchep.
For people wanting to find out more about the project, METRONET is holding two community drop-in sessions:
Saturday 21 July, 9am-12noon – Yanchep Community Centre, Yanchep
Tuesday 31 July, 6pm-8pm - Butler Community Centre, Butler
View the Yanchep Rail Extension flythrough video below:
More articles in the news archive.