Home
City reveals key projects for coming year
Published Tuesday, 10th July 2018
Highlights of the City of Wanneroo's budget for 2018/2019.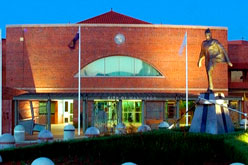 New sporting and recreational facilities in Butler and Madeley, upgraded community building in Girrawheen and Alexander Heights, and the widening of several major roads are some of the highlights of the City of Wanneroo's budget for 2018/2019.
Mayor Tracey Roberts said this year's budget was focused on providing accessible resources, facilities and services for residents, promoting active and healthy lifestyles, and connecting local communities.
"Council has worked diligently to provide a meaningful budget for our community, whilst ensuring that any cost increases are kept to an absolute minimum," Mayor Roberts said.
"We understand that many families are doing it tough in the current economic climate, and we believe that the facilities and services offered by the City provide residents with as many opportunities as possible to enjoy their local community, while representing excellent value for money," she said.
"I would like to extend my sincere thanks to both the State and Federal Governments for supporting the City of Wanneroo by contributing towards many City projects."
Key projects in the City of Wanneroo's 2018/19 Budget by ward are as follows:
North Coast Ward
Butler North District Open Space
The new Butler North District Open Space will provide greater sporting and recreational opportunities for the area, and sporting clubs will have access to high quality fields for local competition.
Located on Halesworth Parade, the new complex will include two senior size floodlit sporting fields, two sports amenities buildings and carpark, cycling and pedestrian path networks, dual beach volleyball/jump pits, cricket nets, eight hardcourts, a playground, barbeques, shelters and drink fountains.
The total cost of this project is $21.2m. The City has allocated $4m this financial year. The Department of Education, Department of Local Government, Sports and Cultural Industries and developers will contribute the rest of the funds for the project.
Expected date of completion is late 2020.
Quinns Beach Coastal Protection
Quinns Beach Long Term Coastal Management Stage 2 works will commence in November 2018.
Works will include the extension and upgrade of Groyne 2, south of Mary Street. The current length of the groyne is approximately 60m which will be extended to a new length of 105m.
The extended groyne will assist with trapping additional sand as it moves up and down the Quinns Rocks coastline.
This will result in a wider beach and buffer against storm induced erosion along with additional protection to the Quinns Beach carpark. Other works will include minor dune rehabilitation adjacent to the groyne location along with extensive beach renourishment.
These Stage 2 works will cost approximately $2.9m and are expected to be completed in March 2019.
Other notable expenditure:
Merriwa - Addison Park, sports lighting and oval construction, $455,000.
Quinns Rocks - Belhaven Park sports amenities building for design, $690,000.
Yanchep – Development of a passive park at Picnic Cove, $400,000.
Central Ward
Rocca Way, Wanneroo
The Wanneroo Town Centre will be revitalised with the connection of Rocca Way and Conlan Avenue.
The $775,000 upgrade will allow the two roads to connect, creating an active and vibrant 'main street'. The road will be within the current Wanneroo Central landholding, adjoining the southern and eastern extents of the Dome Café and the Gumnut Family Practice.
Work will be carried out alongside the Wanneroo Central Shopping Centre upgrades, expected to be completed later this year.
Pinjar Road, Banksia Grove
Pinjar Road will be upgraded to a four-lane dual carriageway between Blackberry Drive and Joondalup Drive.
The 2.5km stretch of road covers five intersections, and will improve the capacity and safety of Pinjar Road, and provide a strategic link to Banksia Grove.
The total project cost is estimated at $5.45m, two thirds of which is funded by the State government, with $1.9m allocated in the City's budget this year.
Edgar Griffiths Park, Wanneroo
Edgar Griffiths Park in Wanneroo is set to benefit from a new sports amenities building.
New change and store rooms, a kiosk, first aid room, umpire's room and public toilets will replace the existing facility to service the sporting groups who utilise the park.
The City is investing $1.65m towards the project this financial year. Construction is scheduled for completion in 2019.
In addition, new floodlights are being installed around the extended oval, and a new water mains extension will service the new kitchen at a further cost totalling $310,000.
Other notable expenditure:
Neerabup – Neerabup Industrial Area, $1.6m for completion of services (water and wastewater) within the older part of the industrial estate (Stage 1b).
Wanneroo – Franklin Road intersection upgrades, $700,000. Includes construction of turning pockets and improved street lighting at junctions.
Banksia Grove – Grandis Park Skate Park, $511,000 for the completion of the project, expected in September 2018.
Wanneroo – Wanneroo Aquamotion, $710,000 for retiling of pools.
Carramar – Carramar Golf Course, $1m for upgrade of reticulation.
South Ward
Kingsway Regional Sporting Complex, Madeley
Kingsway Regional Sporting Complex will be further improved with several projects, catering for high-participation sports of netball and soccer, as well as an exciting water playground.
Wanneroo District Netball Association Building – Stage 1
The first stage of the new Wanneroo District Netball Association clubrooms will begin construction this financial year, with $938,400 allocated to the project in 2018/2019.
The State Government is contributing $125,000.
While detailed design is still being carried out, the building is expected to have offices, kitchenette, meeting rooms, equipment storerooms, first-aid room, change-rooms, canteen and a multi-purpose room.
The project is expected to go out to tender in August, with construction to start in November 2018, completing the first stage in April 2019. The second stage will be finished by May 2020.
Kingsway Aquatic Play Space
Kids are sure to revel in a new aquatic play space, with construction expected to begin in October.
Adjacent to the ever-popular Dinosaur Park, the aquatic play space is planned to be completed by May 2019. The City has allocated $400,000 to complete the project.
Kingsway Olympic Clubroom change room facilities
The City is investing $1.5m towards the design and construction of two new sports amenities to complement the Kingsway Olympic Sports Clubrooms at Kingsway Regional Sporting Complex. The new amenities will include unisex change-rooms, toilets, a first aid room, an umpire room and external storage.
The project is expected to be completed in August 2019.
Mirrabooka Avenue, Landsdale
Road safety will be boosted in Landsdale, with the completion of the dualling of Mirrabooka Avenue between Hepburn Avenue and Gnangara Road.
With earthworks and clearing already underway, the upgrade includes a four-lane dual carriageway, landscaped central median and shared paths on both sides.
The $2.53m project has been made possible with contributions from the State Government.
Hudson Park, Girrawheen
The Dennis Cooley Pavilion at Hudson Park will undergo a $1m refurbishment, with the upgrade of its function space and kiosk.
Current amenities will be expanded to include new change-rooms, universally accessible toilets, an umpire room, a first-aid amenity and external storage.
The project is expected to commence in April 2019 and be completed by January 2020.
Other notable expenditure:
Girrawheen – Mirrabooka Avenue (Beach Road to Marangaroo Drive) $650,000 for road rehabilitation (asphalt resurfacing).
Alexander Heights – Upgrades to Alexander Heights Adult Day Centre $533,500.
Koondoola – Shelvock Park - $450,000 for the detailed design and stage 1 construction of the sports amenities building.
Marangaroo – John Moloney Park - $694,000 for sports floodlighting.
Cross-ward key projects
Parks Asset Renewal Program
Parks across the City will be upgraded as part of the $1.45m Parks Asset Renewal Program. This will involve the replacement of existing infrastructure including playground equipment, rubber softfall, shade sails, barbeques and sporting facilities.
North
Eastwall Park, Butler
Charnwood Park, Two Rocks
Anthony Waring Park, Clarkson
Halmstad Park, Mindarie
Jindalee Beachside Foreshore Park, Jindalee
Tamarama Park, Clarkson
Yanchep Community Centre, Yanchep
Doncaster Park, Butler
Leisure Park, Yanchep
Ridgewood Park, Ridgewood.
Central
Castledene Park, Tapping
Lake Joondalup Pre-School, Wanneroo
Wanneroo Showgrounds, Wanneroo
Rotary Park, Wanneroo
Peridot Park, Banksia Grove
Bonvin Park, Tapping
Boyagin Park, Sinagra
Rosinski Park, Tapping
Willespie Park, Pearsall.
South
Alexander Heights Park, Alexander Heights
Hainsworth Park, Girrawheen
Kingsway Sporting Complex, Madeley.
Street lighting upgrades
Upgraded street lighting will be installed across the City's road network to improve safety for road users and pedestrians.
$300,000 has been set aside for the upgrades, with key items including:
the review of street lighting in Girrawheen and Koondoola; and
upgrades at Hudson Drive, Girrawheen, Russell Road, Madeley and Santa Barbara Parade, Quinns Rocks.
Pathways
A range of new footpaths, shared paths and cycling paths will be constructed throughout the City at a cost of $954,000 and scheduled in line with the City's new Pathways Policy.
Paths are planned for:
Central
Frederick Street, Wanneroo $200,000
Yandella Promenade, Tapping $20,000.
North-Coast
Quinns Road (Salerno Drive to Marmion Avenue) $80,000
Quinns Road (Seaham Way to McPharlin Avenue) $94,000
Palm Corner, Quinns Rocks $80,000
Lyndavale Loop, Carramar $30,000
Trinity Way, Clarkson $45,000
Waring Garden, Clarkson $63,000.
South
Gnangara Road, Madeley $44,000
Yellagonga Regional Park, Woodvale $160,000.
More articles in the news archive.