Home
Community Funding Program opening soon
Published Monday, 30th July 2018
Each year, the City of Wanneroo's Community Funding Program offers community groups, organisations and clubs the chance to secure financial support for their projects, activities and events.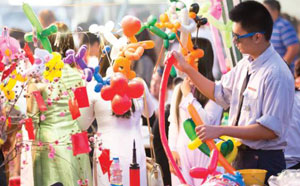 Incorporated community groups, organisations and clubs based in the City of Wanneroo, or with a primary interest in the City, are eligible to apply through the Program.
Last year, Yanchep Junior Districts Football Club (YJDFC) received $3,000 funding from the City to go towards its annual Gala Day which was held at Yanchep Active Open Space on Sunday 15 July.
City of Wanneroo Mayor Tracey Roberts said she was delighted the City could support the Club's event which included amusement rides, food vans and football games for the local community to enjoy.
"Council is particularly supportive of events that connect residents and help build community spirit while encouraging residents to be healthy and active," Mayor Roberts said.
'Linda Cockman, YJDFC's Secretary, said Gala Day was a significant date in the club's annual calendar.
"Gala Day is important because it's a way for our club to engage with the wider Yanchep community, attract new club members, and secure local sponsors so we can keep operating," Linda said.
"The funding received by the City of Wanneroo is fantastic because it goes towards financing the day's activities, but ultimately, we want to grow our membership and sponsorship arrangements so we are financially secure and sustainable."
Community groups, organisations and clubs with a great idea for a project or event in the City of Wanneroo from February 2019 onwards may be eligible for funding support.
Applications open on 12 September 2018 and close on 24 October 2018.
For more information, visit: wanneroo.wa.gov.au/communityfunding or contact the Community Funding Officer on 9405 5951.
A Community Funding Information Session is also being held at the Alkimos Pop-Up Library on 18 August. To register, email: communityfunding@wanneroo.wa.gov.au before 15 August.
More articles in the news archive.