Home
You Have to Draw the Line Somewhere
Published Wednesday, 19th December 2018
Anyone who has ever found themselves lost will know the value of a good map - or in more recent years, a reliable sat nav - but have you ever wondered where maps originated from?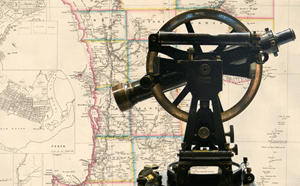 Historians believe that early mapping and surveying originated in Ancient Egypt where land boundaries were re-established after the annual Nile River floods, with the first documented land ownership and boundary records dating back to 3000 BC.
Since then, maps have been used to represent the world in two dimensions to help determine the edge of coasts, borders of countries and boundaries of properties.
The modern precise measurement of these maps has been the job of the surveyor.
Surveyors work on a diverse range of projects from planning and design of new land development as well as construction of infrastructure such as buildings, roads, bridges, sports fields and farms.
The City of Wanneroo is pleased to present a new exhibit, You Have to Draw the Line Somewhere, featuring the fascinating history of mapping and surveying and the important role surveyors play in the world today.
Mayor Tracey Roberts said the exhibit would appeal to a wide range of people.
"This exhibit provides an intriguing insight into the world of the mapping, surveying, geopolitics and ancient history," Mayor Roberts said.
"I encourage anyone with an interest in such topics to come along to the Wanneroo Museum and take in this slice of history."
You Have to Draw the Line Somewhere opens on 12 January 2019 at the Wanneroo Regional Museum, Wanneroo Library and Cultural Centre.
Opening hours
Monday, Tuesday, Wednesday & Friday 10:00am - 4:00pm
Thursday 10:00am - 5:00pm
Saturday 12:00pm - 4:00pm
Sunday closed
Public holidays - closed
More articles in the news archive.