Home
Dog owners urged to be more diligent
Published Thursday, 20th December 2018
The City of Wanneroo is calling on all dog owners to be socially responsible and ensure their pets are under control in public areas.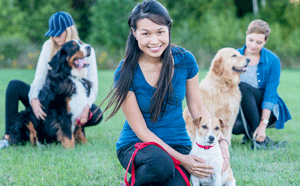 This follows concerns raised by community members about dogs being exercised off-leash without being under adequate control.
Dog owners have responsibilities as outlined by the Dog Act 1976 including:
Dogs must wear a collar and Council registration tag when in public places
Dogs must be on a maximum two-metre leash in public areas such as local streets
In designated areas, dogs may be exercised off a leash, but the person in control of the dog must carry a leash in case it is required
Dogs must be under control the owner's control at all times.
The City's Director Community and Place, Debbie Terelinck, said it was disappointing that many dog owners failed to take their responsibilities seriously.
"To date in 2018 there have been 304 dog attacks in the City of Wanneroo (on people and animals), and the majority of these were caused by irresponsible owners failing to control their pets in public places," Ms Terelinck said.
"I urge all fellow dog owners to do the right thing – keep your dog on a leash when walking out in public, ensure you can control your dog when exercising them off leash at parks, never allow your dog to approach another person without their consent, and keep your dog away from other animals.
"And of course, always pick up your dog's waste and dispose of appropriately."
Dog poo is litter and a cause of major worry for communities because of the potential health, environmental and amenity impacts. While dog poo bags are available in many parks, owners are responsible for ensuring they have bags with them before leaving the house.
An on-the-spot fine of $100 will be issued to owners who don't remove their dog's poo.
Other important points to remember:
Owners' properties must be adequately fenced to confine pets
Dogs must be registered in one person's name, over the age of 18 years
Dogs must be registered with the City and micro-chipped from the age of three months.
Exercise areas
Dogs may be exercised off leash in approved exercise areas providing they are under effective control (meaning they will come back when called) and are close to their owner so they the leash can be quickly attached if need be.
Dogs are not permitted at:
Frederick J Stubbs Grove, Quinns Rocks
Beach Reserves, except designated areas
Wanneroo Showgrounds, Wanneroo
At Kingsway Regional Sporting Complex, dogs are permitted off leash in the dog exercise park only, and must be on a leash in all other areas. Dogs are not permitted on any hard sports courts in the City
Dog beach locations
Dogs may be exercised in approved dog beach locations:
Part of Quinns Rocks Beach, Quinns Rocks - north from Tapping Way
Part of Yanchep Beach, Yanchep - south from Nautical Court
Part of Two Rocks Beach, Two Rocks - south of the southern groyne.
An on-the-spot fine of $200 will be issued to owners who fail to control their pet or allow it to enter areas which are not designated dog exercise areas.
More articles in the news archive.