Harvest and Vehicle Movement Ban, City of Wanneroo - 6 December 2019
A ban on the use or operation of engines, vehicles, plant or machinery from 10am Friday, 6 December 2019 until 6pm, Friday 6 December 2019 for the whole of the City of Wanneroo. More information
Home
Works underway at Edgar Griffiths Park
Published Monday, 8th April 2019
A new sports amenities building at Edgar Griffiths Park on Garden Park Drive in Wanneroo is set to benefit local sports clubs.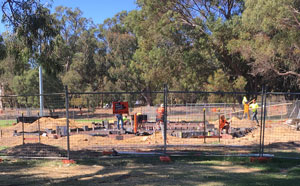 Much-needed change rooms and storerooms, a kiosk, first aid room, umpire's room and public toilets will replace the existing outdated toilet block.
City of Wanneroo Mayor Tracey Roberts said the new building aimed to cater for the City's growing population and provide more recreational opportunities for local clubs.
"The City of Wanneroo grows by 8000 residents each year, and as the population increases, so too does the number of clubs requiring suitable facilities for their players," Mayor Roberts said.
"This new facility will allow Edgar Griffiths Park to play host to sporting teams and better support our community to be healthy and active," she said.
"We look forward to seeing Wanneroo sporting clubs and the community making the most of the park and the new sports building when it is completed later this year."
Wanneroo Junior Football Club has been a regular park user for many years.
"It is fantastic to see construction has started on the new clubrooms at Edgar Griffiths Park," Wanneroo Junior Football Club President Mick Willcocks said.
"We have been using Edgar Griffiths as a training ground for many years now and we've also held some Sunday morning games there," he said.
"It is great to see an upgrade of the facilities take place, especially the addition of lighting. We are looking forward to utilising these brand new clubrooms next season."
The $1.65 million project is scheduled for completion in October 2019.
In addition, the playing fields on Edgar Griffiths Park have been extended to accommodate senior sports and new floodlighting has been installed.
More articles in the news archive.