Home
Proposed Road Closure – Darbyshire Parade, Alkimos
Published Wednesday, 24th April 2019
Proposed temporary closure of Darbyshire Parade in Alkimos from 29 April to 24 May 2019.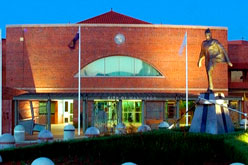 In accordance with Local Government Act 1995, Public Notice is hereby given that Darbyshire Parade, Alkimos is to be closed from 29 April 2019 to 24 May 2019 (26 Days) for the works associated with the Marmion Avenue Duplication Project.
Submissions are invited and can be submitted to the contractors project manager Sean Robinson at RJ Vincent
Email: Sean.Robinson@rjv.com.au
Phone: 9345 399
Or the City of Wanneroo Project Manager for Marmion Avenue Duplication Project, Peter Tomsett
Email: Peter.Tomsett@wanneroo.wa.gov.au
Phone: 9405 5036
The proposed traffic management plans can be viewed by clicking below. This also shows the proposed detours.
Proposed Road Closure – Darbyshire Parade, Alkimos. Traffic Management Plans.
Harminder Singh
Director Assets

More articles in the news archive.