How to use Intramaps mapping tool
Navigation tools
Use these to navigate around the map window


Selection tools
Use these tools to select and display information on the map

Measurement tools
Use these tools to measure distance area. To use, click in the start window of the feature you want to measure and double click at the end. Your measurement will be displayed in the results box. Please note these measurements are approximate and should not be used as a substitution for a proper survey.

Modules
The modules box contains various modules that exist within IntraMaps. Each module consists of feature datasets or layers, for example, aerial photographs, point or line files that represent spatial objects and contain corporate information. Modules exist to group this spatial into like datasets for ease of use and organisation.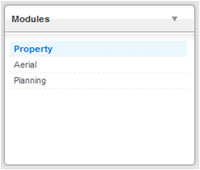 Layers
The layers list shows the various types of information that exist within each module. The layers can be turned on and off and can also be labelled from within the layers list.