Home
Garage Sale Trail 2020
Garage Sale Trail 2020
Date: 21st November 2020 - 22nd November 2020
Every day
Location: Various
Cost: Free registration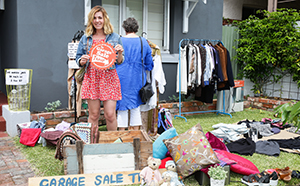 The City of Wanneroo is bringing Australia's biggest community and sustainability event, Garage Sale Trail, to the local area this November.
Garage Sale Trail, the recovery edition, is coming town on Saturday 21 and Sunday 22 November 2020. Happening online and in communites across Australia, this year's event is all about helping you make or save some money.
Put secondhand first
Host a garage sale at home or online, or get your school, community group, unit block or whole street involved. You'll make money, meet the neighbours and help divert valuable resources from landfill. It's free to register, and Garage Sale Trail helps supply the tips, tricks, good vibes and promotional bits to help you sell big and stay safe.
Register your sale or shop the trail at www.garagesaletrail.com.au/cityofwanneroo
Secondhand is not only great for the planet and your pocket, it's safe too. Garage Sale Trail is with you every step of the way to help you stay safe, sanitised and socially distant this year.
Join a masterclass
Already decluttered or got enough stuff? Fear not, you can still get involved. Garage Sale Trail has teamed up with some of Australia's most stylish sustainability experts to bring you a series of online masterclasses that will have you farewelling fast fashion forever. Learn how to style, mend and shop secondhand, all in under an hour at one of their Trail Tutorials. View events and register here.
Frequently asked questions
What is Garage Sale Trail?
Garage Sale Trail is Australia's biggest weekend of garage sales. It's happening on Saturday 21 and Sunday 22 November 2020.
You don't need to have a garage, just set up in your front yard or join in with your neighbours.
Who is it for?
Garage Sale Trail is for everyone! Participants include:
Households
Community groups and charities
Schools
Cultural institutions
Makers and creators
Why get involved?
Declutter and reduce waste to landfill
Get to know your neighbours
Earn some extra cash or fundraise
How does it work?
Residents interested in organising and hosting a sale on the weekend can register at garagesaletrail.com.au. Once your sale listing is set up, you'll get access to free and handy resources, tips and guides to make your sale a success.
What does it cost?
Thanks to the support of the City of Wanneroo, the event is free for residents to participate in.
Why is the City of Wanneroo involved?
Garage Sale Trail is one of a number of council initiatives designed to reduce waste to landfill and provide the community with ways to dispose of unwanted items responsibly.
Further information
October 2020

Prev month Next month

The green box highlights today's date and the dates with buttons have events happening on that day.

| Mo | Tu | We | Th | Fr | Sa | Su |
| --- | --- | --- | --- | --- | --- | --- |
| | | | 01 | 02 | 03 | 04 |
| 05 | 06 | 07 | 08 | 09 | 10 | 11 |
| 12 | 13 | 14 | 15 | 16 | 17 | 18 |
| 19 | 20 | 21 | 22 | 23 | 24 | 25 |
| 26 | 27 | 28 | 29 | 30 | 31 | |
Discover more events