Home
10 Week DJing Course
10 Week DJing Course
Date: 17th September 2019
Location: Girrawheen Hub, 11 Patrick Court, Girrawheen
Cost: Free - limited to 15 places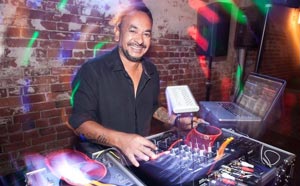 This DJ Course is a 10 week programme that covers the basic aspects of becoming a DJ, running a small homebased business and knowledge about the industry.
Delivered by Off The Wall Promotions in collaboration with City of Wanneroo, this course covers a broad range of skills, techniques and knowledge to give graduates the confidence to overcome inhibitions, think outside the box and succeed within the industry.
The course will culminate in an end of course performance where each student will DJ for 10-15 minutes at a graduation party where family and friends are invited to attend.
Weeks 1 - 4 // 4pm to 6pm
Weeks 5 - 10 // 4pm to 7pm
Registration
Shannon Crowe
Phone: 9405 5644
Email: economic@wanneroo.wa.gov.au
Numbers for this course are strictly limited to 15 places.
Meet the Instructor
Brandon Chowdhurie from Off The Wall Promotions has been in the entertainment industry for over thirty years. His vast experience means song selection and timing are second nature. Brandon is a specialist with experience in the entertainment, wedding, event management , hospitality industries and teaching. He has the knowledge, enthusiasm and contacts to ensure you get the best start to your DJing career .
Course Overview
Week 1 – Introduction & Overview
Introduction and overview of theory and practical components. Introduction to music styles and
genres.
Week 2 – Running a Business
How to choose a business name and check if it's available. Overview the process of business
name registration and ABN application. Marketing via social media.
Week 3 – Music Knowledge
Understanding the concept of music, the types of music from each decade and music genres basics. How to read a crowd.
Week 4 – The Voice
Introduction to using a microphone. Vocal techniques. Gaining confidence with public speaking.
Week 5 – The Hardware
Going through the components of a DJ console and other equipment.
Week 6 – The Mix
Hands on practical tuition on the use of DJ equipment and techniques.
Weeks 7 to 10 – Preparation for Performance
Revision of the use of a DJ console and mic proficiency. Choose 4-5 songs for the end of course performance.
September 2020

Prev month Next month

The green box highlights today's date and the dates with buttons have events happening on that day.

| Mo | Tu | We | Th | Fr | Sa | Su |
| --- | --- | --- | --- | --- | --- | --- |
| | 01 | 02 | 03 | 04 | 05 | 06 |
| 07 | 08 | 09 | 10 | 11 | 12 | 13 |
| 14 | 15 | 16 | 17 | 18 | 19 | 20 |
| 21 | 22 | 23 | 24 | 25 | 26 | 27 |
| 28 | 29 | 30 | | | | |
Discover more events