Home
Old School/New Rules with Mr Shaw
Old School/New Rules with Mr Shaw
Date: 18th April 2021
Location: Buckingham House, 10 Neville Drive, Wanneroo
Time: 10:15 - 11:15
Cost: FREE - bookings essential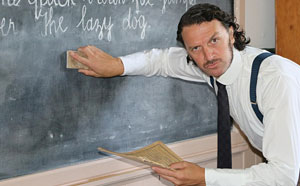 Join headmaster Mr Shaw at the Old Wanneroo Schoolhouse for a teaching experience from yesteryear.
This light-hearted serving of local history (with dollops of discipline thrown in for good measure) is presented by Genrefonix and stars the irreverent, livewire character actor Paul Rowe. Prepare for a madcap trip back in time!
Suitable for all ages.
Discover more events