Website issue - Near Me functionality
The Near Me feature on the website is currently not functioning. We are investigating and hope to have it back online as soon as possible.
Home
How to be litter-free and waste wise
How to be litter-free and waste wise
Date: 10th August 2021
Location: Gumblossom Community Centre , Tapping Way, Quinns Rocks
Time: 9:00 - 15:00
Cost: FREE- registration essential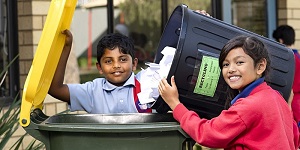 Litter prevention and waste reduction professional learning workshop.
Join the team from Waste Wise Schools and Keep Australia Beautiful to learn how to avoid and recover waste, and protect our environment, through litter prevention and waste reduction. It includes:
a step-by-step guide on how to run a whole school waste and litter prevention campaign
loads of resources to take back to your school–USBs, posters, booklets
laws relating to litter, social and environmental impacts and behaviour change
how to get started with waste avoidance and resource recovery projects
tools for getting your school Waste Sorted.
information on how to become an accredited Waste Wise School and apply for grant funding
The workshop is suitable for principals, teachers, EAs, gardeners and parents. It is recommended two staff attend to help with planning for your school.
Full-day teacher relief is provided, a maximum two per school.
July 2021

Prev month Next month

The green box highlights today's date and the dates with buttons have events happening on that day.

| Mo | Tu | We | Th | Fr | Sa | Su |
| --- | --- | --- | --- | --- | --- | --- |
| | | | 01 | 02 | 03 | 04 |
| 05 | 06 | 07 | 08 | 09 | 10 | 11 |
| 12 | 13 | 14 | 15 | 16 | 17 | 18 |
| 19 | 20 | 21 | 22 | 23 | 24 | 25 |
| 26 | 27 | 28 | 29 | 30 | 31 | |
Discover more events