2021 Local Government Election Results
The Western Australian Electoral Commission (WAEC) has announced the results of the 2021 Local Government Election for the City of Wanneroo. View the results
Home
Old School/New Rules with Charles Shaw
Old School/New Rules with Charles Shaw
Date: 24th October 2021
Location: Old Wanneroo School House, 10 Neville Drive, Wanneroo
Time: 10:15 - 11:45
Cost: FREE - bookings essential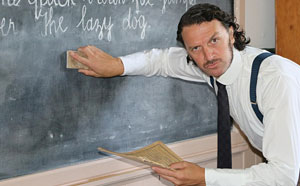 Visit the Old Wanneroo Schoolhouse for a taste of school from yesteryear! A rollicking interactive show for all ages!
Times
10:15am to 10:45am
11:15am to 11:45am
Back by popular demand! Prepare for a madcap trip back in time and join head teacher, Mr. Charles Shaw, in the Old Wanneroo Schoolhouse classroom for a light-hearted serving of local history with dollops of discipline thrown in for good measure.
Presented by Genrefonix and starring the irreverent, live wire character actor, Paul Rowe.
Free event, suitable for all ages.
Hosted by the City of Wanneroo.
October 2021

Prev month Next month

The green box highlights today's date and the dates with buttons have events happening on that day.

| Mo | Tu | We | Th | Fr | Sa | Su |
| --- | --- | --- | --- | --- | --- | --- |
| | | | | 01 | 02 | 03 |
| 04 | 05 | 06 | 07 | 08 | 09 | 10 |
| 11 | 12 | 13 | 14 | 15 | 16 | 17 |
| 18 | 19 | 20 | 21 | 22 | 23 | 24 |
| 25 | 26 | 27 | 28 | 29 | 30 | 31 |
| | | | | | | |
Discover more events