Food Trucks - Community Information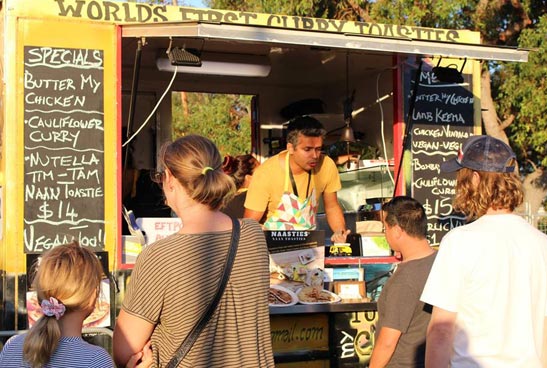 Bringing great food and great value to local places and spaces, the food truck program is designed to activate your community and create opportunities for residents to connect and relax in their local area.
Food truck events are managed by external coordinators independent to the City of Wanneroo. In support of this, the City makes a range of trading locations available.
To engage in one of the many wonderful food truck events and learn more about the program, please view the FAQs below:
How does the food truck program work?
The City of Wanneroo's food truck program is a community-driven initiative. Everything from dates, times and menu items are coordinated by independent operators – this means more regular events at local parks and open spaces, as well as greater variety and choice for local residents.
Where will the food trucks be located?
The next available trading locations for food truck events are:
Butler - Kingsbridge Park
Eglinton - Kinkuna Park
Koondoola - Butterworth Park
Koondoola - Koondoola Park
Landsdale - Warradale Park
Madeley - Kingsway
Mindarie - Catalina Beach Park
Wanneroo - Edgar Griffiths Park
Wanneroo - Rotary Park
Wanneroo - Wanneroo Skate Park
Yanchep - Yanchep Sports and Social Club
We are also seeking to test some new locations in an attempt to activate some local areas; this approach could see some food trucks at Picasso Park in Alkimos, Celebration Park in Clarkson, and the Yanchep Surf Club. We are working with local businesses in these areas to complement the existing food offer in the local area.
Please note, additional food truck events may occur at parks and open spaces in new housing estates that aren't managed by the City of Wanneroo (such as Shorehaven, Alkimos, Amberton Beach, Eglinton, Mindarie, Eden Beach and Jindalee).

When does the food truck season commence?
Food truck event season will commence in spring 2020, and typically runs during the warmer spring/summer months (between September/October and April/May).

How can I find out the details of specific food truck events?
Everything from dates and times to menu items and more are coordinated by independent operators.
Potential coordinators for the 2020/21 food truck program currently are being asked to submit and expression of interest using this form. For more information regarding trading as mobile food vendor refer to the Mobile Food Vendor information page.