Food Trucks - Mobile Food Vendor Information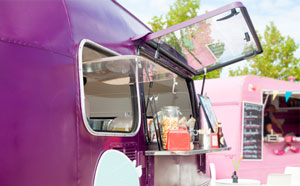 From Two Rocks to Koondoola, The City of Wanneroo offers some fantastic trading sites for food trucks to operate at.
To learn more about how you can participate in or coordinate a Food Truck event, please download the Food Truck Program Guidelines, or view the FAQs below.
When does the food truck season commence?
Food truck event season will commence in spring 2019, and typically runs during the warmer spring/summer months (between September/October and April/May). Starting with the 2019/20 food truck season, City of Wanneroo will begin accepting food truck event notifications throughout the year.
Where are food truck events going to occur?
The available trading locations for food truck events are:
Alexander Heights - Paloma Park
Banksia Grove - Peridot Park
Butler - Kingsbridge Park
Girrawheen - Liddell Park
Hocking - Amery Park
Kingsway - Kingsway
Koondoola - Shelvock Park
Koondoola - Butterworth Park
Landsdale - Warradale Park
Two Rocks - Charnwood
Wanneroo - Wanneroo Skate Park
Additional food truck events may occur in new and developing housing estates.
Food Trucks approved trading zones 2019/2020
What do I have to do to coordinate a food truck event?
How has the process for coordinating a food truck event changed from previous years?
From July 2019, the process for coordinating a food truck event is the same as that for any other community member wanting to run an event. This means there is now opportunity for multiple operators to run events, allowing greater flexibility in what local food truck events look like, and involving less administration time for the operator.

Why has there been a change in how food truck events are coordinated?
The City is committed to continually reviewing its operations to identify how it can improve. As a result, it was found that some simple changes to the food truck event process could result in a better experience for food truck event operators, food truck vendors and community members. This now allows:
Multiple organisations to coordinate food truck events.
Applications to coordinate a food truck event to be submitted at any time throughout the year.
A more efficient and orderly process.
Greater flexibility in how each food truck event is run.
More variety and choice for the community.
I own a food truck and want to trade at a food truck event - how do I go about this?
All food truck events in the City of Wanneroo are coordinated by independent operators. To get involved in these events, you will need to get in touch with your preferred operator. As of November 2019, the following operators have registered to coordinate food truck events: