Relay Highlights
Residents and visitors of the City of Wanneroo welcomed the Queen's Baton Relay with open arms, big smiles and lots of cheering on Monday 26 February. Watch the below video to see local batonbeaers carry the Baton with pride through the streets of Quinns Rocks and Wanneroo.
About the Queen's Baton Relay
The Queen's Baton Relay is a Commonwealth Games tradition that celebrates the Commonwealth's diversity, inspires community pride and excites people about the world-class festival of sports and culture at the Gold Coast in April 2018 and it may be coming right past your door!
The Relay will be the longest and the most accessible ever, where local residents will have the chance to see the baton up close and hear stories from our inspirational local batonbearers
Explore the route maps below to see who will be carrying the Baton and where it will be travelling through Wanneroo and Quinns Rocks.
Queen's Baton Relay Quinns Rocks route
Queen's Baton Relay Wanneroo route
Queen's Baton Relay interactive map
Queen's Baton Relay road closures
Celebrate our local community batonbearers by waving them along a street near you, or come and see the baton up close at one of the City's Community Celebrations.
Community Celebrations
The City will be hosting Community Celebrations at the following locations:
Quinns Mindarie Foreshore
Quinns Mindarie Community Centre, 1 Quinns Road, Quinns Rocks
9:45am – 10:45am (baton arrives at 10.34am)
Entertainment
- Akwaaba African Drumming
- Face-painting and children's entertainment with the Freedom Fairies
Vendors
- Coffee from Portofinos Café
- Zest Soft Serve Ice Cream
- Hot and cold drinks and bacon rolls from Quinns Mindarie Surf Life Saving Club
Jacaranda Amphitheatre
City of Wanneroo Civic Centre, 23 Dundebar Road, Wanneroo
11:30am – 12:30pm (baton arrives at 12.09pm)
Entertainment
- Challenge Brass Band
- Kids' activities provided by City of Wanneroo Libraries
Vendors
- Bootlegger Coffee Co.
- Zest Soft Serve Ice Cream
- MOJITO CANTINA
- Braised Bros.

For more information regarding the Community Celebrations, please see the events on the City's Facebook page.
City of Wanneroo Facebook events
Traffic Management
The Queens Baton Relay travels as a moving convoy, with rolling effect on local road networks and community locations where the Queens Baton is live.
Traffic Management Plans will be in place where relevant to minimise traffic congestion during the Relay. Segments of roads impacted by the Relay may be closed for short periods of time whilst the Queen's Baton travels through. In some cases, traffic may be diverted on an alternative route.
Adequate measures including traffic controllers, ample security and signage will be in place to ensure minimal disruption for surrounding residents. Police and City Rangers will also be increasing their patrols around the area.
Wanneroo batonbearers prepare to share the dream of the Gold Coast 2018 Commonwealth Games.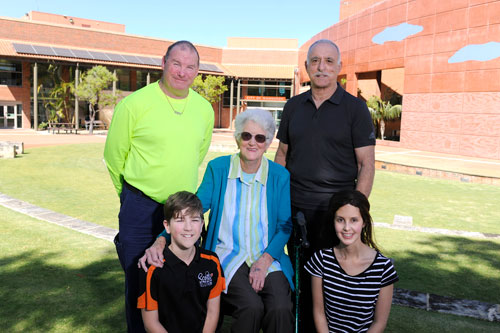 The Queens Baton Relay community batonbearer nomination program was open for public nominations from 5 March – 15 May 2017. Today the Gold Coast 2018 Commonwealth Games Corporation revealed the names of the batonbearers who will carry the Queen's Baton around the City of Wanneroo.
These batonbearers will be a part of history as the Relay makes its way around the country on its way to the Opening Ceremony on 4 April 2018.
Wanneroo Mayor Tracey Roberts said she was immensely proud of the 'local legends' who have been chosen for this special honour.
"Many have dedicated their lives to improving the lives of others, some have accomplished great feats and others are working towards realising their dreams," Mayor Roberts said.
GOLDOC Chairman Peter Beattie AC said this will be a rare and unforgettable experience for the batonbearers.
"We couldn't be more excited for the batonbearers who will be a part of this rich tradition. We are honoured to have so many great Australians carry Her Majesty's message for Gold Coast 2018 and we look forward to celebrating their stories and inspiring generations to come."
Local Batonbearer Profiles
Scott Guerini, Alkimos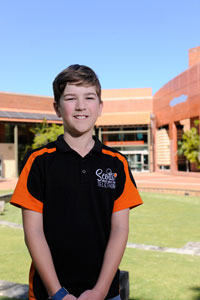 Year of Birth: 2006
Scott founded 'Scott's Great Walk' at four years old. After learning about fundraising at kindergarten he decided he needed to do something to help sick kids and babies. The hardest thing he could think of was to walk 25 kilometres from the family farm to town. He made it in eight hours and 40 minutes. He walked 25 kilometres again aged five and six, 41 kilometres at seven and completed full marathons at eight, nine, ten and last year at eleven. He also hiked 82 kilometres in Canada last year.
Since 2010 Scott has raised $125,000 for Telethon because of his walking. He also recently had a book published which he wrote and illustrated – 'Did You Know, You Can Change the World?' which is about helping others and his walking journey (proceeds from the book sales go to Telethon).
Margaret Cockman, Ashby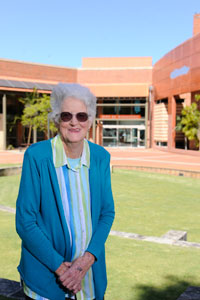 Year of Birth: 1931
Margaret comes from a Wanneroo founding family and is a Freeman of the City, having previously worked in local government for more than five decades.
Without Margaret, many associations and community organisations throughout the City of Wanneroo and Joondalup would not exist. Over the years, Margaret has been actively involved and even founded groups including the Wanneroo Country Women's Association, Wanneroo Agricultural Society, Wanneroo and Districts Historical Society and Wanneroo St John Ambulance Service.
Margaret co-authored the History of Wanneroo book and received the Medal of the Order of Australia for her community work in 1990.
Chloe Clements, Pearsall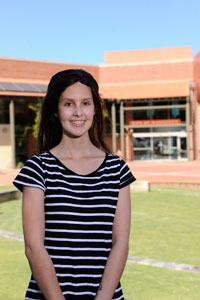 Year of Birth: 1999
Chloe is a 17-year-old brain cancer warrior, survivor, fighter and advocate. She is a gymnast and a dancer, and competes at high levels. At 15 she was diagnosed with Medulloblastoma. Since having extensive surgery and treatment, she has had to learn to walk again. Chloe is still facing ongoing treatment and side effects.
Chloe is giving a face and voice to childhood cancer, for those who no longer can, raising funds and awareness through a number of charities by skydiving, abseiling, modelling, dancing and importantly, speaking out about her journey and others' wherever possible. She is inspirational and mature beyond her years. Chloe is a cancer superhero.
Brian Pozzi, Woodvale
Year of Birth: 1944
Brian is a selfless 73-year-old who looks a lot younger! He is a committed coach of more than 25 young inspiring athletes ranging in age from 12 years through to their 20s. Twice a week he trains them rain, hail, or shine, often picking kids up if needed. Brian is at every single meet and he has seen some of his athletes reach national, state, interstate levels and more. All of this is done in his free time. Furthermore, he purchases all the necessary equipment himself. Brian is extremely committed and deserves recognition.
Rishelle Hume, Butler
Year of Birth: 1975
Rishelle is a proud Noongar woman with traditional ties to the Whadjuk, Ballardong and Gnaala Karla Booja Peoples. She holds a double major in Commence and Human Resource Management, and is employed as Senior HR Aboriginal Employment Consultant within the oil and gas sector.
This highly respected leader received a 2016 Western Australian of the Year Award for promoting Aboriginal Rights and Noongar culture. Some of her appointments include; Chairperson of the Mandjah Boodjah Aboriginal Corporation; Co-Ambassador and Founder of the Yorga Djenna Bidi Leadership Program; Noongar Charitable Trust Advisory Council Member; UNESCO National Cultural Heritage Portfolio Holder; and DSR Aboriginal Sports Cultural Committee Member.
Russell (Rusty) Nelligan, Marangaroo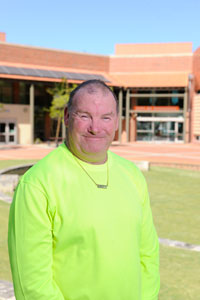 Year of Birth: 1965
Rusty has represented both Western Australia and Australia at Special Olympics around the world, taking gold for softball in China in 2007.
Rusty won the EKS Award at the Special Olympics in 2012 for his leadership skills both on and off the sporting field.
Altogether, Rusty has participated in more than ten Special Olympics. A member of the Special Olympics Athlete Leadership Program, Rusty encouraged and supports fellow athletes in public speaking and community engagement, working on numerous committees with energy and enthusiasm. A dedicated athlete, Rusty is a keen tennis, softball and basketball player and an avid athletics participant.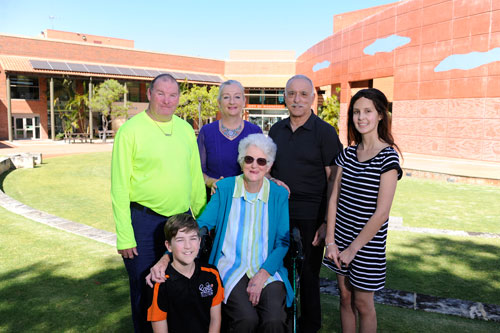 Successful Batonbearers for the Gold Coast 2018 Commonwealth Games Queens Baton Relay
| First Name | Last Name | Community Location |
| --- | --- | --- |
| Jackson | Anderson | Quinns Rocks |
| Craig | Ashurst | Quinns Rocks |
| Jenna | Broomhall | Quinns Rocks |
| Sue | Dash | Quinns Rocks |
| Richard | Furber | Quinns Rocks |
| Scott | Guerini | Quinns Rocks |
| Rusty | Hazel | Quinns Rocks |
| Abby | Hennighan | Quinns Rocks |
| Dale | Hennighan | Quinns Rocks |
| Rishelle | Hume | Quinns Rocks |
| Trent | Mitton | Quinns Rocks |
| Teagan | Mundy | Quinns Rocks |
| Rusty | Nelligan | Quinns Rocks |
| Shirley | Palmer | Quinns Rocks |
| Willie | Pang | Quinns Rocks |
| Steven | Pitcher | Quinns Rocks |
| Katie | Robertson | Quinns Rocks |
| Anthony | Shields | Quinns Rocks |
| Bronte | Strauss | Quinns Rocks |
| Shirley | Treasure | Quinns Rocks |
| First Name | Last Name | Community Location |
| --- | --- | --- |
| Ailie | Clark | Wanneroo |
| Delyse | Clayden | Wanneroo |
| Ethan | Clayden | Wanneroo |
| Chloe | Clements | Wanneroo |
| Margaret | Cockman | Wanneroo |
| Candy | Griffiths | Wanneroo |
| Nicole | Liesis | Wanneroo |
| Colleen | Little | Wanneroo |
| Pamela | McKenzie | Wanneroo |
| Jose | Millares | Wanneroo |
| Helen | Orzel | Wanneroo |
| Brian | Pozzi | Wanneroo |
| Gaye | Teede | Wanneroo |
| Edward | Trindall | Wanneroo |
| Jaxon | Westell | Wanneroo |
For more information visit the Queen's Baton Relay website.