Sport & leisure online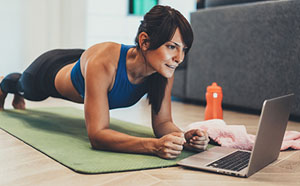 Just like the Premier's Roadmap to Recovery, we will be taking a staged approach to reopening our facilities to ensure the safety, health and wellbeing of our patrons and staff. We are delighted to announce that from Tuesday 19 May 2020, some Aquamotion services will be up and running again. Further sport and leisure facilities will be opening in phase 3 (to be confirmed). In the meantime, if you've visited either our Aquamotion Facebook page or Kingsway Indoor Stadium Facebook page you'll know that we're working hard behind the scenes to make sure we can keep you mentally and physically healthy during this closure period.
At-Home Workout Series
We've created some workout tutorial videos for you to follow at home - grab your water bottle, find a space and click on the videos below to get moving!
If you like what you see, head to our YouTube playlist below, where you'll find the full suite of workout videos to get your heart pumping. As always, if you have any injuries or medical conditions, please seek advice from your GP before exercising.
Lower Body workout
It's time to give your legs some love! Here's a lower body workout you can do in your backyard or your lounge room that will challenge your core stability as well.
Progressive Top-to-Toe workout
You've been asking for more group style classes, so here's a workout you can do along with the Aquamotion team! Cherie is taking Kellie through progressive a top to toe workout for the whole body. You'll need around thirty minutes, and don't forget to warm up.
Island Adventure workout
Join Vicki and the Kids on this island adventure workout! Get the whole family involved and see what exciting things you can see on your adventure!
Morning workout
Do you wake up in the morning feeling a bit achey and stiff? This short mobility and stretch session with Jennie might unknot those tight spots. It's under 10 minutes long and will get your day started in the best way ever!
Older adults workout
Calling all Active Seniors! Jennie from Kingsway Indoor Stadium was a little bit worried that you might be missing out on your exercise sessions right now, so she's stepped out of retirement to put this workout together just for you! This week Jennie takes you through a great floorwork pilates session. If you have time, why not combine it with last week's standing pilates workout? The two together are like strawberries and cream....the perfect pair!
At-Home Fun Fitness Challenge
Aquamotion has been setting you the challenges over the last few weeks, but this week they're asking, "Can you challenge us?" Head to the post on Aquamotion Facebook page and tell them your challenge in the comments box – let's see what they can do!
Find more fun fitness challenges on our YouTube playlist below:
'At-Home' Swim School
Thought you needed a pool to learn how to swim? Swim schoolers, look no further than our series of weekly videos showcasing skills for you to practice in the comfort of your own home!
This week, it's Survival Backstroke. You can practise this in front of a mirror. Make sure your arms don't go above your shoulders and practise your glide for the count of 3. Like all survival strokes, this is about using as little energy as possible so you can slow down and do it carefully. Try lifting one foot as you bring your arms up to practise the timing of your kick if you have the balance for it!
Find all the Swim School videos on our YouTube playlist below:
At-Home Skills and Drills
Amber, who is one of our amazing dance coaches, will be taking us through a dance session so you can keep your skills in tip top shape.
Watch more Skills and Drills videos on our YouTube playlist below:
Activities for kids
NEW - Swim School puzzle/colour & count worksheet
Swim schoolers in stages 10-15 can test their knowledge with the 'fill in the blanks' quiz. Or try the Aquamotion swim school 'colour & count' - how many can you find? Find answers on the Aquamotion Facebook page.
NEW - Make a tissue paper flower bouquet
Hi to all our Kingsway Kids! Would you like to know how to make a paper flower from a napkin or tissue paper? Check out our cool video tutorial - why not make a few and give them to Mum for Mother's Day? All you need is a napkin or tissue paper, a stapler and a pair of scissors (make sure someone helps you with the cutting and keep it safe).
Swim School Word Mania!
Perfect for levels 1,2,3 and 4,5,6, these word searches cover all the important lessons that are provided in class. (Print off another copy and race your kids to see who can find all the words fastest!).
Word scramble and colour puzzle
Swim schoolers can keep up their safety knowledge with this word scramble, or stay entertained with a colour-your-own-puzzle. Let them colour in the picture then help them to cut around the lines for a fun jigsaw puzzle.
Keep an eye on the Aquamotion Facebook page for answers to the word scramble.
Aquamotion swim school mazes
Aquamotion Swim School have some awesome mazes for youngsters to try out! Download the printable versions below and see if your kids can collect all the rescue equipment and teaching aids before class starts.
Kids Activity Schedule
Just in case you're getting bored at home, Kingsway Indoor Stadium has come up with some fun ideas to keep you active, crafty and smart! Download and print out their fun activity schedule below, and see how many of their ideas you can complete.
Fun colouring activities
Calling all Under 12's! Kingsway Indoor Stadium thinks you deserve a break from all that homework you've been doing, so below are some fun sporty drawings you can download, print out and colour in.