10-Week DJ Masterclass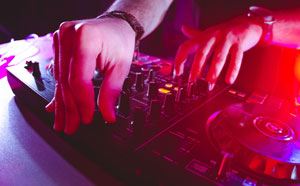 Hit the decks and dance to your own beat in this free 10-week DJ masterclass! Learn the tricks of the trade from a professional and kickstart your career in the industry.
Led by Brandon Chowdhurie, a professional DJ with more than 30 years industry experience, this free masterclass covers everything from marketing via social media and music theory to vocal techniques and hardware proficiency, equipping graduates with a comprehensive set of industry-relevant skills.
Previous participants have gone on to work for AV companies, perform at dance festivals and produce their own music, as well as start their own mobile karaoke business.
Latest course information
New course starts Wednesday 11 August // 6pm
YTRAC, Yhub
128 Yanchep Beach Road, Yanchep
Places are limited and are set to fill up fast. For more information and to register, 9405 5644 or email economic@wanneroo.wa.gov.au
More information on this course
City of Wanneroo's introductory DJ course has been a popular fixture since its inception in 2018.
Delivered by Off The Wall Promotions in collaboration with the City of Wanneroo, the course offers hands-on experience and coaching for emerging artists seeking industry experience.
Former graduate Brian Farrell said the course had helped him rediscover his passion for music.
"I'd always had an interest in DJing going back to secondary school, but I had lost touch with the technology.
"I was on the City of Wanneroo's Facebook page, saw the course advertised and thought I'd sign up. It gave me a great perspective on DJing, as well as business skills including how to set up an ABN and promote my work on social media.
"If it wasn't for Brandon I wouldn't have gotten back in touch with music – I can't be thankful enough for his guidance and support."
In 2020, the course won the National Award for Local Government in the 'Arts Animates' category.