Local business case studies - Support Wanneroo Local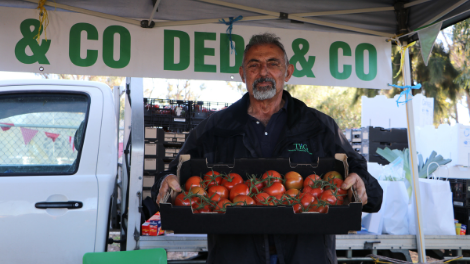 Kingsway Markets, Madeley – 19 August 2020
Start your weekend off right with a visit to community-run Kingsway Markets. Held every Saturday morning from 8am to 12pm and run in partnership with Olympic Kingsway Sports Club, Kingsway Markets boasts free entry, a dog-friendly setting and live music from local performers.
Diane from Neerabup-based grower Dedo and Co said the market was a great spot to grab local produce from local businesses. "There's been such a great vibe from day one, a very comfortable community feel," she said.
Market coordinator Stephanie said turnout was much bigger since the markets restarted at the start of July. "We have changed the layout and now have over 25 stalls every week, talented buskers performing weekly, delicious breakfast options, coffee, fresh produce from Wanneroo, Carabooda and Chittering, meat, bread, sweets, plants, pet stalls and more - it is a great place to bring the kids on a Saturday morning."
For more information, visit olympic-kingsway.com.au/kingsway-markets
Passing Paws Pet Cremations, Neerabup – 22 July 2020
From a safe home collection service to free empathy sessions for those in enforced isolation, Neerabup-based business Passing Paws Pet Cremations went above and beyond to "build trust with the community" during COVID, according to Chief Executive Officer Lee Cassell.
"There's an element of trust that comes with being welcomed into someone's home during such a sensitive time," Lee said. "We felt it was important to adapt our service model and ensure our services were still accessible, while people felt safe and cared for."
With its 10 customer-facing staff kitted out in PPE at all times, Lee said the business was able to "accommodate different circumstances for different clients".
"Through the pandemic, we've established a 'sustainability blueprint' that will allow us to adapt and overcome to challenges in the future," he said.
Little Monkey Sports, Alkimos – 10 July 2020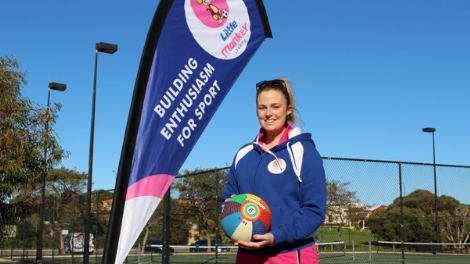 Kristina Reid from Little Monkey Sports.
Little Monkey Sports has been running movement and multi-sports programs for young children from Alkimos to Madeley since 2017.
This award-winning business was hit hard by COVID-19, as health restrictions introduced during March put paid to plans for a big school holiday camp, daycare incursions, community-based classes and regular after-school sessions.
"We had such a positive start to the year," owner Kristina Reid said. "And then COVID happened. Within a week, everyone had to cancel and we were left with no classes to run."
As a local small business, Kristina was able to benefit from support offered by the City of Wanneroo and the Wanneroo Business Association (Inc), including a free one-on-one advisory session with Business Foundations Inc.
Kristina said the session - conducted via Zoom - helped coach her through the various incentives and initiatives offered by the Federal Government, such as JobKeeper, and gave her the confidence to keep moving forward.
"The advice we received was key in ensuring we didn't shut permanently," she said. "Through JobKeeper we were able to retain our two full-time staff, and other support initiatives have since allowed us to employ someone new."
"It offered clarity during some of the confusion. If there is a second wave, we learnt how to adapt and survive.
"I would definitely recommend other small business talk to the City to see what support it can offer."
Collector Zone Comics, Clarkson – 16 June 2020
Since 2014, Collector Zone Comics & Collectables in Clarkson has been a haven for pop culture fanatics and collectors of everything from comics and games to toys and trading cards. And like many small businesses, Collector Zone needed to step outside its comfort zone when COVID-19 hit.
Owner Chris Topfer said the store introduced kerbside pick-up for patrons who ordered via Facebook and a new online store, as well as 'virtual shopping' held via Facebook Live.
"Most people were very understanding, and happy to work around the restrictions," he said. "Sales suffered, but we wanted to protect ourselves and our patrons. We're back up and running now, which I put down to the support we received from our regulars."
Navigating a "sea of information" about incentives like JobKeeper also proved challenging, Chris said.
"Things have been changing very fast," he said. "It was hard for us to keep on top of the moving goalposts."
However, the biggest source of frustration came when overseas distribution channels ground to a halt.
"We get all our comics from the US," Chris said. "When deliveries stopped back in March, we were lucky that we could fall back on other merchandise, like collectables and toys, in the interim. We haven't put all our eggs in one basket - diversity helped us survive."
"Every small business has its own set of challenges. I'm optimistic and hopeful for the future of the economy."
Trandos Tomaotes, Neerabup – 5 May 2020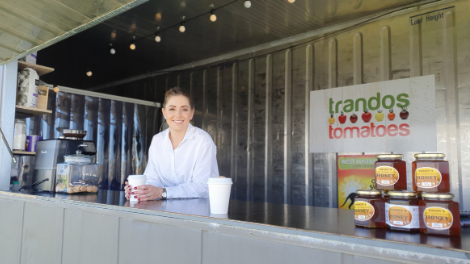 Trandos Tomatoes, Neerabup.
Neerabup-based market garden Trandos Tomatoes has upped production to meet demand, with families looking locally for fresh produce when some supermarkets are in short supply
A contactless delivery service on Saturdays has replaced the usual farm gate shopfront, and Tash Trandos (pictured) said they had received lots of positive feedback from regulars and newcomers alike.
"Supporting and staying local in any way you can helps local businesses and employees in their community," she said.
The family-run business has also been doing its part to help out regional areas in need of fresh veggies.
"In March, we pitched in and donated a delivery of corn, beans, cucumbers and tomatoes to all households in The Shire of Bruce Rock when their local grocery store closed down. Every little helps during this tough time."
Creative Catering, Wangara – 30 April 2020
Family-run Wangara caterer Creative Catering has been serving up delectable dishes for weddings, birthdays and corporate events since 2009 - but the current COVID-19 restrictions have seen their business take a serious knock.
"There was a week last month where the cancellations just rolled in," General Manager Adam (pictured right) said. "A high profile wedding we were catering for was forced to cancel on the day of."
"We had to reinvent ourselves overnight, so we fast-tracked a new ready-made meal menu into production via our website. The response from our community has been incredible, but it is a very cautious market out there.
"It hasn't been easy, but we're taking steps to keep our staff on the books. We're continuing to work with local growers and distributors to bring quality chef-made meals to locals however we can."
Leapfrogs, Wanneroo – 24 April 2020
The classic drive-in, with a new twist! Wanneroo eatery Leapfrogs has launched its new 'carpark kitchen', allowing locals to order and collect some takeaway favourites - from woodfired pizzas and juicy burgers - without needing to leave their car, while gazing up at a colourful canopy comprised of hundreds of twinkling fairy lights.
Featuring in and out facades built from almost 200 wooden pallets and 600 metres of wiring for the lights, the new concept comes in response to the current pandemic restrictions, and will allow Leapfrogs to continue serving up its menu until life returns to normal.
"Our intention is to provide fantastic quality, take-away food without guests even needing to get out of their car," owner Mark Gill said.
Mini Care Mates, Tapping – 21 April 2020
With travel restrictions in place across Australia, Tapping-based hospitality supplies wholesaler Mini Care Mates needed to rethink its whole business model in recent weeks.
"Airbnb hosts and local bed and breakfasts are struggling for bookings, and this has a flow-on effect for our business," sole trader Margaret said. "And with elective surgeries put on hold, the toiletry packs and dental kits we would normally supply to hospitals have taken a hit."
However, Margaret said there was a preference among some of her clients to source amenities from domestic distributors, rather than relying on overseas suppliers.
"We're working closely with regional hospitals both here in Western Australia and in the eastern states to supply essentials, as well as some luxuries during this tough time, from hand sanitiser to bathrobes.
"The tourism industry will bounce back too, and I think people will be more inclined to holiday in Australia in the near future. I want to be well-placed for when it does."
Café Elixir, Wanneroo – 6 April 2020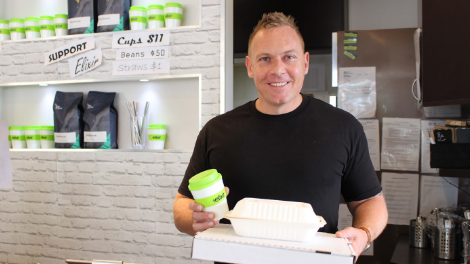 Cafe Elixir, Wanneroo
Like many small businesses, Cafe Elixir in Wanneroo has made some major changes to keep the lights on these past few weeks.
Owner-operator Taylor said a scaled back menu, new operating hours, a new pick-up and delivery service model and contactless payment methods meant the business was making some short-term adaptations for long-term survival.
"We've had to totally change how we operate overnight," he said. "We want to keep Elixir going so our employees and the community have something to come back to later down the track.
"However and wherever you can, be sure to share the love around and continue to support local businesses."