How to use your three bin system
When do I put each bin out?
General waste will still be collected weekly.
Recycling and garden organics (GO) will be collected on alternative weeks.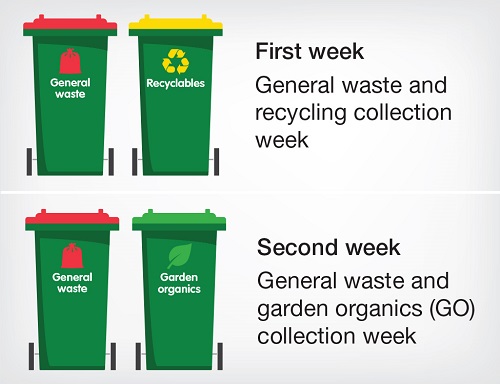 What goes in each bin?
Red lid general waste bin
Food organics such as:
Food waste
Fruit and vegetable scraps
General rubbish items including:
Animal waste
Nappies
Wipes
Hygiene products
Tissues and paper towels
Meat trays
Bottle lids
Bagged shredded paper
Soiled paper products
Yellow lid recycling bin
Loose recyclable packaging materials such as:
Clean paper (not shredded)
Flattened cardboard
Clean aluminium and steel cans
Glass
Plastic bottles and containers with lids off (please place plastic lids in the general waste bin, or save to donate to programs that accept these).
Lime-green lid garden organics (GO) bin
Loose garden organic waste such as:
Lawn clippings
Small branches (branches to be a metre or less in length, and a maximum of 6cm in diameter/thickness).
Leaves and flowers
Tree cuttings
Weeds
Sticks and twigs.
Properties remaining on the two bin system can place garden organic material in their general waste bin.
Where should I dispose of this?
If you're still unsure about whether to place an item in one of your three bins, our Disposal Guide might be helpful. Here you can use our partnership with Recycle Right to search for where to dispose of specific items. You can also find out the closest facility to drop off items that don't belong in any of your three bins.