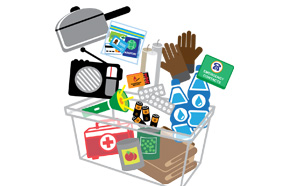 Having an emergency kit is an important step to prepare and protect your household for an emergency such as a bushfire.
Keep your Emergency Survival Kit in a storage container in a location that is easy to get to and where the whole family knows about.
Things to include in your kit are:
Essential items
Portable battery operated AM/FM radio
Waterproof torch
New spare batteries
First aid kit with manual
Toiletries
Sunscreen
Change of clothes and shoes for everyone
Sturdy gloves and face and dust masks
Woollen blankets
Important documents and sentimental items
Household emergency plan with emergency contact phone numbers
Passport, birth and marriage certificates and wills. Photocopy important documents or save them to a USB and store in your emergency kit.
House, life, health and car licence and insurance documents.
Medicare, pension or personal identification cards and immunisation records.
Vaccination details and vet contacts for your pets and animals.
On the day add
Cash, key cards and credit/debit cards.
Essential medications, prescriptions and dosage.
Special requirements for infants and children (including a favourite toy and activities).
Mobile phone and charger, or phone card.
Extra car and house keys.
Important memory sticks or CDs with personal information or sentimental/irreplaceable items.
Food and water
Drinking water (at least three litres per person per day for four days).
Canned food (dried food is a good alternative) to last four days.
Can opener, cooking gear and eating utensils.
Don't forget to prepare for your pets as well
Ensure your pet is wearing an identification tag
If you're leaving take a leash, basket, medication, food and a familiar toy
For more information:
Visit the DFES website
Contact DFES Community Engagement on 9395 9816
Having items put aside can increase self-reliance and decrease the stress and panic that can be overwhelming when faced with an emergency. If you do already have an emergency kit, make sure you check it over and ensure everything is up to date and working properly.