Library Vision 2017/18 – 2021/22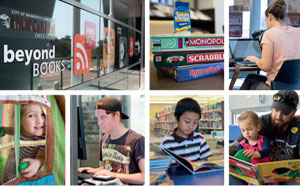 Our public libraries make a vital contribution to the social, cultural, learning and economic development of our community through the provision of information, access to technology, opportunities to develop new skills and knowledge, reading and literacy
activities and welcoming community spaces that connect people with each other and with the City.
The Strategic Library Services Plan 2017/18 -2021/22 provides the framework that will focus our efforts to enrich lives and strengthen communities through providing opportunities to learn, discover, create and connect.
Click below to download the Plan.