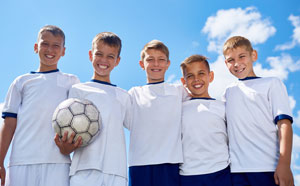 Junior Futsal is a great way to keep the kids happy and healthy while they have fun with mates. This fun and exciting game caters for School Year Groups 3-10 along with a Youth (U18s) Competition.
Get involved by registering your child in a team, or as an individual.
When: Monday afternoons
Spring Season - 9 August 2021 to 13 December 2021
Divisions
Years 3 and 4
Years 5 and 6
Years 7 and 8
Years 9 and 10
Youth (U18s)
Cost:
$53 per game.
How to register
To take part simply fill in our junior team nomination form below which will automatically be sent to Kingsway Indoor Stadium.
Junior Futsal Competition House Rules
For more information contact:
Andrew Carroll
Phone: 9405 5521
Email: kingswayindoorstadium@wanneroo.wa.gov.au