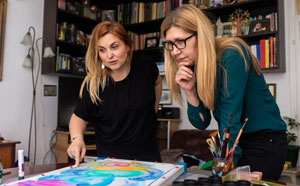 From April to May we will be presenting 7 professional development talks to give you the tips and tools you need to promote your art. Learn how to generate ideas for your creative work, write a short and long bio, and develop your social media skills.
Venue: Wanneroo Library, 3 Rocca Way, Wanneroo (Upstairs at the back of the library)
Note: Bookings will become available one month before the date of the workshop.
How to generate ideas for your creative work with Helen O'Hara
When: Wednesday 12 April // 6pm - 7:30pm
When you feel your ideas running dry, implement some strategies, including using a journal, collecting, recycling old artworks and before you know it, the creative juices will start flowing again.
How to curate and hang an exhibition with Diane Tweedie
When: Wednesday 19 April // 6pm - 7:30pm
For artists who wish to curate, position and hang artwork in a professional and aesthetically pleasing manner. To display your artwork in the best way possible is to generate sales.
Colin Walker's vision of WA's cultural landscape
When: Wednesday 26 April // 6pm - 7:30pm
Colin is the Director of the Art Gallery of WA. Learn about his vision for engagement, business philosophy, curatorial structure and his unexpected thinking for the future of WA's arts and cultural landscape.
How to create another income stream through your creative side hustle with Sarah Carlton
When: Wednesday 3 May // 6pm - 7:30pm
Etsy is an online marketplace that connects sellers with buyers. Selling your works online could prove to be a great way to make money on the side.
How to be creative, innovative and master your creative mind with Shona Erskine
When: Wednesday 10 May // 6pm - 7:30pm
Arts psychologist Shona will discuss creative practice skills that everyone can engage in. These skills are framed around building the capacity to be creative.
How to write a short and long bio to promote yourself and your art with David Allan-Petale
When: Wednesday 17 May // 6pm - 7:30pm
You can make a significant impact on your audience through the use of a clear and professional bio. Inspire collectors to find out more about you and your artwork and follow your professional career.
How to create an engaging and successful social media presence for your arts practice
When: Wednesday 24 May // 6pm - 7:30pm
Find your audience, build your brand and strengthen your following across social media channels.