Rates frequently asked questions
Why isn't the City of Wanneroo looking to abolish or heavily discount rates
As a growth council, we invest heavily in our community with new infrastructure as well as upgrading infrastructure and services in existing suburbs. For 2020/21, the City of Wanneroo needs to collect $135 million in rates (which is the same as last year, hence the 0% overall rate increase) to deliver what the community asks of us.
Rates make up around 65 per cent of the income received by the City of Wanneroo and not having that income would severely limit what the City is able to deliver for the community. Abolishing or heavily discounting rates would mean significant delays or deferrals to projects such as road upgrades, new playground equipment or footpath repairs. It could mean shorter opening hours at libraries and youth centres, parks being mowed less often, or delays in beach renourishment works.
Any or all of these would have a significant impact on the community as well as having budget implications in future years – even if some projects can be delayed for one year, they cannot be delayed indefinitely and the funds will need to be found in future budgets.
Why isn't the City planning to use its reserves instead of charging rates
We create reserves for specific upcoming expenses that are higher than we could budget for in a single year. These include recreation and sporting facilities, asset replacements and renewals, and loan repayments.
It's like knowing that you'll need to replace your car in five years, and putting away some money each year to fund it. It's not a rainy-day fund - it's money set aside for a specific purpose. If we didn't have reserves, our ratepayers would see significant variations in their rates from year to year.
This graph shows what rates would look like if we didn't have reserves - ratepayers would see a very small increase in 2021/22, but then close to a 10% rise in 2023/24, before a drop in rates in 2025/26. Rates would then go up more than 40% in 2026/27 as we pay the principal of a previously interest only debt. It would be very difficult for our community to budget for and pay these sorts of changes in rates, so we smooth them out by putting some money aside each year.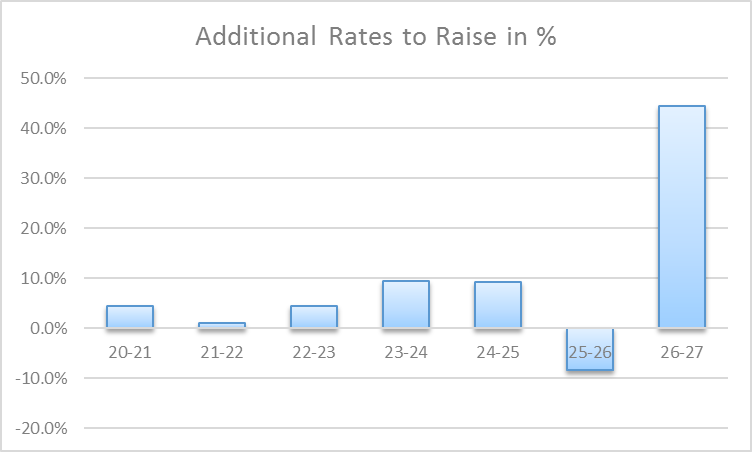 Is my property being re-valued this year?
Yes. The revaluation cycle is set by the State Government (Landgate) and despite requests from the City of Wanneroo and other local governments to delay, Landgate has advised they will continue with revaluations this year.
City of Wanneroo properties were last valued in August 2015, with those valuations first applied to rates in the 2017/18 financial year. As it is a three-year cycle, new valuations will be applied to rates for the 2020/21 financial year.
More information on property valuations is available on the Landgate website.
As the State Government is doing property valuations, and the property market in Perth has decreased, shouldn't my rates also decrease?
This is an example of how your rates are calculated.
State Government body (Landgate) determines GRV for your property is $20,800 ($400/week).
Local council needs $135 million from rates, divides it by total GRV and UV of all rateable properties in the City ($3.2 billion) and gets a rate in the dollar of 0.0421875
Your property's GRV ($20,800) is multipled by rate in the dollar (0.0421875) to give your rates charge of $877.50
Using this example, let's assume that after revaluations by Landgate, the total GRV and UV for the City has reduced by 10%. Some properties have gone up, some have stayed the same and some have gone down, but overall it's 10% lower.
Council still needs $135 million from rates (which is the same as last year, hence the 0% overall rate increase), but is now dividing it by $2.88 billion (90% of the original $3.2 billion) to get a rate in the dollar of 0.046875.
If your property's GRV has gone up by 10% (to $22,880) your rates charge is $1,072.50
If it has stayed the same ($20,800), your rates charge is $975
If it has gone down by 10% (to $18,720), your rates charge is $877.50.
So Council is still getting $135 million from rates, but individual rates notices vary because a different rate in the dollar is calculated based on changed valuations across the City, not just your property.
Why can't the City of Wanneroo just cap the rate in the dollar
Capping the rate in the dollar reduces the rates income available to the City and has a flow-on effect to the services and facilities that are available to the community. As you can see from the example in the table below, capping the rate in the dollar with a fall in the GRV means a significant reduction in the rates income.
Changes to the total GRV for the City of Wanneroo are not uniform across properties in the City – even if all property values go down, they will not all go down by the same percentage. As such the impact on individual properties varies, as does the effect on the rates. Capping the rate in the dollar does not result in the rates burden continuing to be fairly distributed across households and disproportionately benefits those who are least affected.
Rate in the dollar
Home one
Home two
Home three
Home four
Rates income
GRV
Rates
GRV
Rates
GRV
Rates
GRV
Rates
0.3333
$1000
$333.30
$600
$199.98
$500
$166.65
$900
$299.98
$1000
0.3333
$970
$323.30
$425
$141.65
$435
$144.98
$780
$259.97
$870
0.3831
$970
$371.61
$425
$162.82
$435
$166.65
$780
$298.83
$1000
Can I make a payment arrangement?
Rates are calculated by multiplying a property's Gross Rental Value (GRV) or Unimproved Value (UV) by the rate in the dollar set by Council, subject to minimum rates.
Gross Rental Value (GRV) is the fair rental value of your property as determined by Landgate's Valuer General's Office (external site) and is an estimate of how much you could expect to receive if you were to rent your property.
Properties used for non-rural purposes e.g. urban residential, commercial etc are valued using the GRV method.
Unimproved Value (UV) is the fair market value of your property as determined by the Valuer General's Office and does not take into account any improvements on the land such as dwellings or outbuildings. Land used for rural purposes is valued using the UV method.
Why is waste listed as a separate charge?
This is not a new charge.
In light of increased costs to local landfill disposal in Western Australia, waste levy charges have been extracted from general rates to provide greater transparency of the cost of waste management and to ensure that waste costs are fully recovered, eliminating the need to subsidise this service through reductions in other projects or programs in the City.
How is the Emergency Services Levy (ESL) calculated?
The Emergency Services Levy (ESL) fee amount is not imposed by the City. It is set by the Department of Fire and Emergency Services and funds Western Australia's fire and emergency services, including Career and Volunteer Fire & Rescue Service brigades.
ESL charges are calculated based on numerous factors including the ESL category your property falls under and your property's Gross Rental Value (GVR).
Further information about the ESL can be found on the DFES website (external site).
Do I pay GST on my rates assessment?
No, GST is not payable on general rates, domestic refuse services, emergency services levy or the pool fence inspection fee.
I paid for an instalment of my rates, but I now have a final notice. Why is this?
If the exact amount of the rates first instalment was not paid in full (in one transaction) by the due date then the owner will not have automatically been placed on the instalment option. Please complete our rates payment arrangement form to request to pay by the four instalment option.
Does the four instalment option accrue interest and admin fees?
Yes, the instalment options and any additional charges are detailed on the front of your rates notice.
The four instalment option includes an administration charge of $15 and a lost potential interest rate of 5.5%.
Failure to make either the third or fourth payment by the due date will result in Council revoking your right to pay the balance of your rates by instalments and the full balance may then be recovered.
Any amounts outstanding after the due date may be recovered by legal action.
PLEASE NOTE: Any legal action undertaken by Council will result in additional expenses being incurred by the ratepayer.
Eligible pensioners are exempt from additional charges on their rebate portion only. The rebate is funded by the Government of Western Australia.
I've received a final notice but am unable to pay my rates by the due date. Can I set up a payment arrangement?
The City offers the opportunity to make a payment arrangement. Payments can be made on an agreed weekly, fortnightly or monthly basis.
Note: All payment arrangements are subject to interest and administration fees which are determined by Sections 6.49 and 6.51 of the Local Government Act 1995.
Can I object or appeal my property's valuation?
Landgate's valuation service has conducted a general valuation of the gross rental values (GRV's) of properties within the City of Wanneroo. This is in accordance with the Valuation of Land Act 1978 and is conducted every three years. The new GRV's are effective 1 July 2020 and apply to the Ratesand Emergency Services Levy. The volatility in Perth's rental market over the past few years has caused significant movement in some GRV assessments.
Your valuation (GRV or UV) is only one factor used to calculate your rates notice. The Valuation of Land Act 1978 (as amended) Part IV sets out the manner in which valuation objections and appeals may be lodged. A property owner may lodge an objection against the valuation of a property within 60 days of the date of issue of a rate notice.
For information on how your values are calculated and how to lodge an objection, please visit Landgate's website landgate.wa.gov.au/valuations, or alternatively call Landgate Customer Service on +61 (0)8 9273 7373.
Section 6.76 of the Local Government Act 1995 provides the grounds, time and the way individual objections and appeals to the Rates Record may be lodged. An objection to the Rate Book must be made in writing to the council within 42 days of the date of issue of a rates notice.
Section 6.81 of the Local Government Act 1995 refers that rates assessments are required to be paid by the due date, irrespective of whether an objection or appeal has been lodged. In the event of a successful objection or appeal, the rates will be adjusted, and you will be advised accordingly. Credit balances may be refunded on request.
I've lodged an objection to my rates and have received a final notice. Do I have to pay?
Yes, rates must be paid as assessed by the due date irrespective of whether an objection has been lodged. Any reduction in rates as a result of a successful objection will be refunded. Interest shall being to accrue on rates if they are not paid in full. Daily interest at 8.45%pa on general rates and 11% on emergency services levy.
It is the responsibility of the owner to advise Rating Services when a change of address takes place, which would prevent the effective service of the Rates Notice.
Please notify Council of your change of residential and/or mailing address by completing the form below.
What if the property changes ownership?
Under the provisions of Secion 9.68 of the Local Government Act 1995, written notice must be given to the City within 21 days, whenever any person sells or otherwise disposes of any rateable land. Details of the description of the land and then name and address of the purchaser must be stated.
Please notify Council of any changes to ownership of your property in writing if you have not engaged a Settlement Agent/Conveyancer to effect the sale or disposal of your property.
Contact us via our online form; or
Send a letter to City of Wanneroo, Locked Bag 1, WANNEROO WA 6946; or
Hand deliver a letter:
- Civic Centre, 23 Dundebar Rd, Wanneroo. Mon-Fri between 8:30am and 5pm
- Clarkson Library, 27 Ocean Keys Bvd, Clarkson. Mon-Fri between 9am and noon & 12:45pm and 5pm
Can I get a copy of my rates notice?
If you require a copy of your rates notice you can request it.
Current years rates notices are free of charge, however if you require a previous years rates notice, there is an admin charge of $26 per notice.
Please note: if you require figures for tax purposes, we can provide these over the phone.