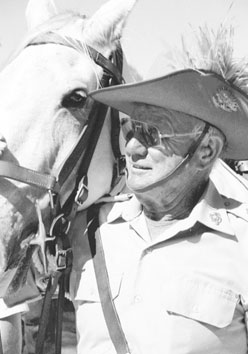 Closure of 10th Light Horse Heritage Trail & parking area - 2 September 2015 to mid-2017
Please note that from Wednesday 2 September 2015 until mid-2017 the 10th Heritage Light Horse Heritage Trail & adjacent parking area will be closed. This is to ensure safety during works to widen Wanneroo Road to two lanes between Flynn Drive and Hall Road.
Click below for more information.
Closure of 10th Light Horse Heritage Trail & parking area
---
This 1.2km commemorative heritage trail in Neerabup National Park follows the site of the second camp of the 10th Light Horse regiment in Wanneroo during World War Two.
The regiment's role was to protect the West Australian coastline from the threat of enemy attack. Strategically located between the coast and Pearce Air Base, the Wanneroo campsite included an administration area, cook house, ammunition dump and stores as well as a large area dedicated to manoeuvres, the horse lines and a tent for the farriers.
The 10th Light Horse Regiment was Australia's last Mounted Cavalry unit and was disbanded at the campsite in Wanneroo in April 1944. Significant sites along the trail are marked with informative signs, and the horse lines and camp ground foundations are still visible.
Click below to download the 10th Light Horse brochure.
10th Light Horse Trail brochure