Home
Events on 27th Dec 2017
Events for 27th Dec 2017
Showing 1 to 2 of 2 events.
A Wanneroo Christmas 2017
Date: 15th December 2017 - 6th January 2018
Every day
Location: Wanneroo Museum, Wanneroo Library and Cultural Centre, 3 Rocca Way, Wanneroo
Cost: FREE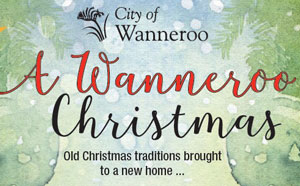 With much of the Wanneroo community coming from overseas, many Christmas traditions have been transplanted into Wanneroo.
Share some of these traditions in a new display in the Wanneroo Museum for the Christmas holidays and enjoy some traditional Christmas activities in our fun new holiday program.
FREE ENTRY. Running from Friday 15 December, there is plenty to do for kids of all ages at Wanneroo Regional Museum these school holidays.
Museum opening hours:
Monday // 10am - 4pm
Tuesday // 10am - 4pm
Wednesday // 10am - 4pm
Thursday // 10am - 5pm
Friday // 10am - 4pm
Saturday // 12pm - 4pm
Christmas closures
The Museum will be closed from Sunday 24 December, reopening on Tuesday 2 January.
Live in the Amphitheatre
Date: 13th December 2017 - 24th February 2018
Every week
Location: Jacaranda Amphitheatre - Civic Centre, 23 Dundebar Road, Wanneroo
Time: 18:00 - 22:00
Cost: FREE (tickets essential)
Nothing says Australian summer like a trip to the outdoor cinema.
Catch a favourite flick under the stars this summer!
For all the event information, program and competitions, head to the City's Events website:
Be one of the first to know about the latest event news by liking our Facebook page or signing up to the Community Events e-newsletter.
Discover more events