Message from Mayor Tracey Roberts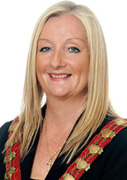 As we all come to terms with the wide-ranging impacts of the COVID-19 pandemic, I will be providing regular updates to share information and maintain our community's sense of connection, particularly in light of social isolation guidelines. As your Mayor, I care about our City, its residents and businesses, and I know the City of Wanneroo is working on how best we can support everyone during this challenging and highly unusual time. We must all continue to work together to keep our community safe and healthy.
The full impacts of COVID-19 are yet to be understood and like other government agencies, we are receiving guidance and regular advice Federal and State Government Agencies, including the Departments of Health. I encourage you to keep up to date through the City's webpage, and follow the guidance of the WA and Commonwealth Health Departments with regard to precautions for COVID-19.
Often, extraordinary times bring out the best in people and I know we are a strong, resilient and caring community. Please take care of yourselves and in the true pioneering spirit of Wanneroo, look after one another.
Best regards,
Mayor Tracey Roberts JP
Updated - 5pm, 1 April 2020
The City's priority is the health and safety of our community, our patrons and our employees, and we are implementing the recommendations of health experts in any changes to our community and business services.
As always, if you are unwell, please stay at home. Visit the WA Department of Health or the healthyWA websites for more information.
We thank our community members for observing social distancing and working together to support a healthy and safe place to live, work and play during this challenging time.
Advice
The City of Wanneroo, like other government agencies, is receiving regular advice and updates from the State and Federal Departments of Health on Australia's COVID-19 status and guidelines for response.
The City of Wanneroo recommends residents follow health advice issued by the WA Department of Health:
If you experience flu-like symptoms such as fever, cough, sore throat or shortness of breath, seek immediate medical advice and stay home.
Frequently wash your hands with soap and water, front, back and between the fingers, for at least 20 seconds.
Always cover your sneeze or cough and wash your hands immediately afterwards.
Practice social distancing by maintaining at least 1.5m of distance between yourself and other people.
Further information on COVID-19:
Jump to section:
Online payments and services
If you are self-isolating or unable to visit your local customer service centre for any reason, the City of Wanneroo offers a whole range of services via its website, making it quick and easy to access from home.
This includes paying rates, pet renewals, lodging building and development applications, updating your address, transferring ownership of pets and requesting an additional bin collection.
Visit wanneroo.wa.gov.au/onlinepaymentsandservices to get started.
Citizenship ceremonies
Citizenship ceremonies have been cancelled indefinitely, pending Health Department guidelines.
Applicants should email the Department of Home Affairs at ceremony.wa.@homeaffairs.gov.au with queries.
Changes to programs, services and facilities
As part of its response plan to minimising the spread of COVID-19 within our community, many City of Wanneroo services, programs and facilities that have been closed, modified or postponed. Please note this information will be regularly updated as guidelines and advice from the state and federal Government and health authorities progresses.
To view a full breakdown of affected programs, services and facilities please click below:
Affected programs, services and facilities
Wanneroo Aquamotion and Kingsway Indoor Stadium
Wanneroo Aquamotion and Kingsway Indoor Stadium are currently closed until further notice.
All memberships and pre-paid upfront payments already made have been suspended until we re-open.
City of Wanneroo Libraries
All City of Wanneroo Libraries are currently closed until further notice.
City of Wanneroo Library members can also access a range of digital services from a laptop, tablet or smartphone.
This includes;
The City's free Books on Wheels program – which brings books to patrons who are housebound – continues to operate.
Books can be returned anytime via the after-hours chutes at any of our libraries.
If you currently have an item on loan from one of the City's libraries, please be assured that overdue notices will not be issued for at least the next 90 days.
Email is the preferred method of communication during this time, so if your contact details aren't up to date with us, send your email address and mobile phone number to wannerool@wanneroo.wa.gov.au.
Visit www.wanneroo.wa.gov.au/libraries to become and member and access all the online options your library has to offer.
Wanneroo Regional Museum and Wanneroo Gallery
The Wanneroo Regional Museum and Wanneroo Gallery are currently closed until further notice.
Community centres
All City of Wanneroo community centres (including the Girrawheen Hub and YTRAC) are closed, and as a result, all facility bookings have been cancelled until further notice.
If you have a query about your booking, please email the bookings team direct on facilitybooking@wanneroo.wa.gov.au or call 9405 5000 and ask for the Community Facilities Bookings Team.
For all enquiries regarding the Girrawheen Hub, please email girrawheenhub@wanneroo.wa.gov.au or call 9405 5406.
Youth centres and programs
All City of Wanneroo Youth Centres are currently closed until further notice.
This closure includes all scheduled programs and events, including the City's youth outreach program. Click here to find out more.
If you have a query, please email the Childhood and Youth Services team on youth.services@wanneroo.wa.gov.au or call 9405 5000 and ask for the Childhood and Youth Services team.
Playgrounds, skate parks/BMX tracks and outdoor gyms
All City playgrounds, outdoor gyms and skate parks/BMX tracks will close for one month. An additional two-person limit for gatherings in public spaces is also now in place, which applies to outdoor group-exercise classes and boot camps.
Waste services
Waste collection services are continuing as scheduled.
Support for small businesses
There are a range of resources and support services available to small businesses and enterprises from a Federal, State and local level. Click here to find out more.
Support for aged and vulnerable communities
The City's Community Development team is currently restructuring the way it provides key support and services to aged and vulnerable people in the local community. We are remaining actively engaged with our community groups through online and telephone communication and are working closely with local non-profit-organisations to conduct weekly welfare check-ins to see if there is anything we can do to provide a little extra assistance during this time.
As we face the challenge of isolation and social distancing, we are also working hard to transition our everyday community services to an easy to access and use online platform to promote and maintain healthy and connected communities. More information on this initiative will be available through this webpage soon.
The City of Wanneroo has a designated phone number - 08 9405 5600 for seniors or vulnerable residents who require assistance. This phone number is staffed during standard operating hours (Monday-Friday, 8:30am-5pm).
This assistance may include referral to a support agency, help from a City volunteer or simply a friendly ear to talk to.
There are a range of resources and support services available to seniors during times of crisis, such as the ongoing COVID-19 pandemic. Click here to find out more.
Help for people experiencing hardship
Important numbers
Resources to support protection of vulnerable persons
Mental health support
Lifeline Australia
Ph: 13 11 14
Website: Lifeline Australia
A crisis support service that provides short term support at any time for people who are having difficulty coping or staying safe.
Kids Helpline
Ph: 1800 551800
Website: Kids Helpline
A free, private and confidential 24/7 phone and online counselling service for young people aged 5 to 25 years.