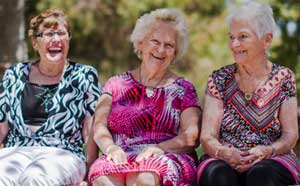 Age Friendly Strategy
In 2017, the City of Wanneroo Council adopted its inaugural Age Friendly Strategy 2017/2018 – 2020/2021. The strategy helps guide the City's approach in creating an age-friendly City that supports and responds to the changing needs of seniors. The Strategy is in line with the World Health Organisation's (WHO) Age Friendly Cities framework and enables the City to recognise the diversity among older people while promoting the inclusion and contribution of seniors in all areas of community.
Age Friendly Strategy 2017/2018 - 2020/2021
To date, the City's Age Friendly Strategy has had a valuable and meaningful impact in the community. A large number of actions have been completed, with others underway. Some of the key highlights include:
The opening of the Reflect and Connect Memory Café on 29 September 2020 in partnership with Alzheimer's WA, Jamaica Blue and Ocean Keys Shopping Centre. The Memory Café provides a safe and inclusive space for people living with memory loss and their friends, family and carers to socialise and make new friends.
A range of events and activities to recognise seniors during Seniors Week WA celebrations in November. These have ranged from antiques roadshows, connecting with local school kids, board game tournaments to leadership programs and beyond!
A 55+ Senior Expo at Lakeside Shopping Centre in 2019. The expo, run in partnership with the City of Joondalup, provided the opportunity for seniors to learn about a wide range of available services and listen to insightful, positive and inspiring presentations.
New outdoor fitness equipment designed for seniors being installed at Monaghan Park. Visitors can enjoy a whole body work out, from step ups and body twists, to chest and leg presses. The freestanding exercise equipment is specifically designed to help improve balance, flexibility and mobility for seniors as well as people with limited mobility.
In partnership with COTA's (Council of the Ageing) Living Longer, Living Stronger program and Ocean Keys Shopping Centre, Mall Walking for seniors commenced at Ocean Keys Shopping Centre in 2019. The COTA Mall Walking Program is a low cost form of exercise and a great opportunity to make new friends.
The City is currently in the process of reviewing its Age Friendly Strategy. Watch this space for more information on how you can contribute in shaping the future of seniors in the City of Wanneroo.
The City thanks the community for its continuous support and contribution towards creating an age friendly Wanneroo.