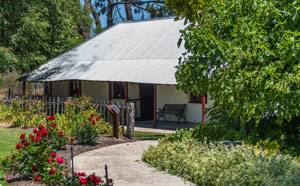 PLEASE NOTE: Due to expected high temperatures on Sunday 26 November, Cockman House and Buckingham House will not open to the public as planned. We apologise for any inconvenience and thank you for your understanding. Both houses are now closed for the summer period and will re-open on Sunday 3 March 2024.
Explore the oldest remaining house in the Wanneroo area. Completed in 1860, Cockman House was a family home for three generations. Today it provides visitors with a fascinating opportunity to discover what life was really like in the past. You will learn about the families who lived here from the very beginning of the Swan River Colony until 1987.
Old-fashioned games, audio stories and hands-on activities make this a wonderful experience for all ages. Come along, bring a picnic and take in everything Cockman House has to offer.
Virtual Tour
Story Trail App
Follow the story of James Cockman and his dream of building a family home to last generations with the Cockman House stories trail app. Audio, games and hands-on activities bring the story of Cockman House to life.
Download the Play Trails app on your smartphone from Google Play or the Apple store.
When are we open?
Cockman House is open to the public every Sunday during autumn (March to May) and spring (September to November) from 1:30pm to 4:00pm. Entry is free.
School groups
Education programs for school children are available Tuesdays, Thursdays and Fridays from March to November by appointment only.
Education programs
Find out about our popular Cockman House school excursions and digital incursion options.
Cockman House education programs
For more information:
Phone: (08) 9405 5920
Email: museum@wanneroo.wa.gov.au
Location
Entrance on Ancestor Retreat, Woodvale Drive. Click below to view a map.
Drop off area
Buses can drop off in the public car park on Ancestor Retreat.
Entry/access
The front section of Cockman House is wheelchair accessible from the front entrance although larger electric wheelchairs may not fit through the front door. There is a step down from the lounge to the kitchen and a further set of wooden steps to the back veranda. It is possible to access the rear of the house via a path and grassed surface.
Trained guide or assistance dogs
Visitors accompanied by a trained guide or assistance dog or a dog undergoing such training are welcome in this site.
Toilets
The male and female toilets are both wheelchair accessible.