Integrated Planning & Reporting Framework
In October 2010 the Integrated Planning and Reporting Framework (IPRF) and Guidelines for all Local Governments was introduced in WA, under changes to the Local Government Act 1995. This framework aims to ensure integration of community priorities into strategic planning for Councils, as well as implementation of the objectives that have been set from these priorities.
The framework requires each Local Government to have three levels of integrated strategic planning, informed and supported by appropriate resourcing and asset management plans. The key components of the IPRF are:
The diagram below shows how all of the elements of the Integrated Planning and Reporting Framework fit together to deliver council priorities which are informed by the community aspirations: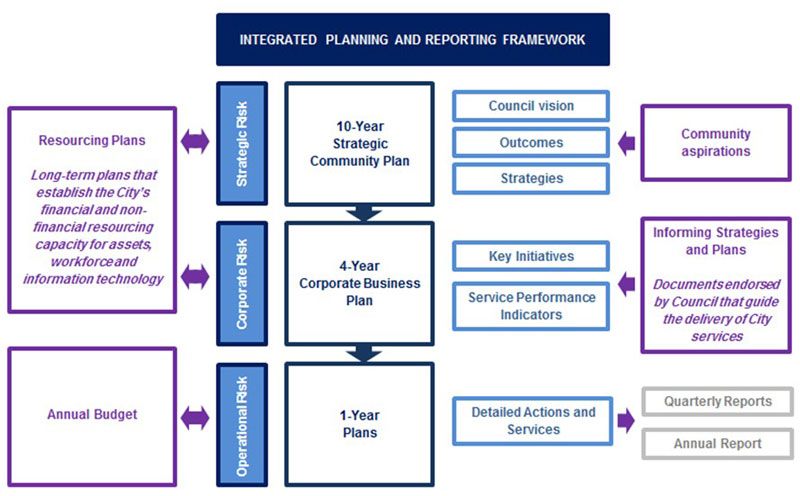 Strategic Community Plan
This is our long-term vision that captures the aspirations of our community and describes the City's objectives. It is the key document for Council to track and report back to the community on progress.
Strategic Community Plan 2021 to 31
Strategic Community Plan 2017/18 to 2026/27
Strategic Community Plan 2013/14 to 2022/23
Corporate Business Plan
This contains the same objectives and strategies as the Strategic Community Plan with the addition of specific actions the City will undertake over the next four years. This plan ensures we deliver services in line with community aspirations.
Corporate Business Plan 2021/22 - 2024/25
Corporate Business Plan 2020/21 - 2023/24
Corporate Business Plan 2019/20 - 2022/23
Corporate Business Plan 2018/19 - 2021/22
Corporate Business Plan 2017/18 - 2020/21
Corporate Business Plan 2015/16 - 2018/19
Corporate Business Plan 2014/15 - 2017/18
Corporate Business Plan 2013 - 2017
Annual Reports
Full list of City of Wanneroo Annual Reports
Budget Statements
Click below to view a full list of City of Wanneroo Budget Statements and supporting documents.