Mayor's Christmas Appeal 2021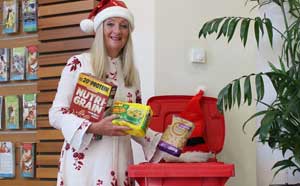 For more than two decades the Mayor's Christmas Appeal has been helping people who are going through tough times have a brighter Christmas.
Through the generosity of local schools, community groups, businesses and residents, Christmas hampers of donated gifts are distributed to families in need.
The annual collection is an opportunity for City of Wanneroo residents to help fellow community members.
Donation bins are located at many locations including the Wanneroo Civic Centre, City libraries, selected schools and local businesses.
To help a local family have a brighter Christmas, please drop off your donations by Tuesday 30 November.
Click on your suburb below to find where donation bins are located in your area:
Alexander Heights Senior Citizens Club
18 Linto Way, Alexander Heights
Alkimos College
101 Santorini Parade, Alkimos
Alkimos Primary School
340 Benenden Avenue, Alkimos
Northshore Christian Gramma School
50 Scothorn Drive, Alkimos
Child and Parent Centre
14 Viridian Drive, Banksia Grove
Grandis Primary School
220 Grandis Boulevard
East Butler Primary School
7 Amersham Crescent, Butler
John Butler Primary School
2 Halesworth Parade
Little Buckets Child Care
1 Tredegar Street, Butler
Carramar Primary School
71 Houghton Drive, Carramar
Groovy Grannies
10 Willeroo Chase, Carramar
Clarkson Library
Corner Ebb Way and Ocean Keys Boulevard, Clarkson
Ocean Keys Shopping Centre
36 Ocean Keys Boulevard, Clarkson
Mark Folkard MLA
1244 Marmion Avenue, Currambine
Emmanuel Christian Community School
50 Casserley Avenue
Girrawheen Koondoola Senior Citizens
11 Patrick Court, Girrawheen
Girrawheen Library
6 Patrick Court, Girrawheen
Girrawheen Senior High School
39 Calvert Way, Girrawheen
Hocking Primary School
50 Gungurru Avenue, Hocking
Burbridge School
46 Burbridge Avenue, Koondoola
Carnaby Rise Primary School
Pomodora Avenue, Landsdale
Landsdale Primary School
The Broadview, Landsdale
Dr Anne Aly MP
Shop 3, Kingsway Shopping Centre, 168 Wanneroo Road, Madeley
Kingsway Shopping Centre
Corner Hepburn Avenue and Wanneroo Road, Madeley
Madeley Primary School
41 Martindale Avenue, Madeley
Merriwa Primary School
67 Baltimore Parade, Merriwa
Mindarie Primary School
90 Rothesay Heights, Mindarie
Mindarie Senior College
14 Ellison Parade, Mindarie
Quinns Baptist College
Salerno Drive, Mindarie
Quinns Rocks Senior Citizens Club (Gumblossom Centre)
Tapping Way, Quinns Rocks
Quinns Rocks Sports Club
17 Tapping Way, Quinns Rocks
The Rise by Teman (The Rise Resident Association)
76 Ridgewood Boulevard, Ridgewood
Pineview National Lifestyle Village
Unit 101, 48 Ashley Road, Tapping
Two Rocks Library
Lisford Avenue, Two Rocks
Two Rocks Primary School
51 Resolute Drive, Two Rocks
Belgrade Park Village
55 Belgrade Road, Wanneroo
City of Wanneroo Civic Centre
Dundebar Road, Wanneroo
Mayor's Office - City of Wanneroo Civic Centre
Dundebar Road, Wanneroo
Sabine Winton MLA
11 Rocca Way, Wanneroo
Wanneroo Secondary College
56 Quarkum Street, Wanneroo
Wanneroo Library and Cultural Centre
Rocca Way, Wanneroo
Jessica Stojkovski MLA
4/923 Whitfords Avenue, Woodvale
Yanchep Beach Primary School
100 Lindsay Beach Boulevard, Yanchep
Yanchep Central Shopping Centre
1 & 2 Peony Boulevard, Yanchep
Yanchep Lagoon Primary School
15 Primary Road, Yanchep
Yanchep Rise Primary School
110 Moorpark Avenue, Yanchep
Yanchep Secondary College
21 Ravensbourne Street, Yanchep
Donations will distributed to families during December by the following charities and community groups:
Grandparents Rearing Grandchildren
MercyCare
Mindarie Rotary Club
No Limits Perth
Patricia Giles Centre for Non-Violence
Pregnancy to Parenthood (ECU)
Rainbow Community Church
St Vincent De Paul Society
The Pantry
Uniting WA
Call 9405 5000 for more information.