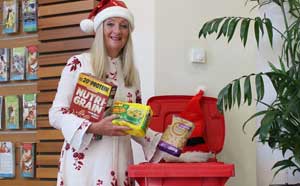 For two decades the Mayor's Christmas Appeal has been helping people who are going through tough times have a brighter Christmas by providing local families with hampers made up of donated goods.
Through the generosity of local schools, community groups, businesses and residents - the City distributed hampers to 39 families identified by various charitable organisations in 2019.
This year, the City is once again requesting residents to donate non-perishable food items and unwrapped gifts to distribute to locals in need this Christmas.
If you would like to make a cash donation, you can do so in person at the City's Civic Centre (23 Dundebar Road, Wanneroo) or via post to City of Wanneroo, Locked Bag 1, Wanneroo WA 6946.
View donation locations below or call 9405 5000 for more information.
Alexander Heights
Alexander Heights Senior Citizens
18 Linto Way, Alexander Heights
Alkimos
Alkimos Beach Primary School
200 Leatherback Boulevard, Alkimos
Alkimos Primary School
340 Benenden Avenue, Alkimos
Keiki Early Learning Trinity
12 Longstaff Avenue, Alkimos
Northshore Grammar School
50 Acotthorn Drive, Alkimos
Banksia Grove
Banksia Grove Primary School and Child and Parent Centre
14 Viridian Drive, Banksia Grove
Grandis Primary School
220 Grandis Boulevard, Banksia Grove
Joseph Banks Secondary College
40 Joseph Banks Boulevard, Banksia Grove
Beldon
Coles, Belridge Shopping Centre
Ocean Reef Road
Butler
Butler Primary School
30 Tollesbury Avenue, Butler
East Butler Primary School
7 Amersham Crescent, Butler
Carramar
Carramar Primary School
71 Houghton Drive, Carramar
Carramar
Carramar Primary School
71 Houghton Drive, Carramar
Clarkson
Atlantis After School Care
Unit 19/61 Ocean Keys Boulevard, Clarkson
Clarkson Library
Cnr Ebb Way & Ocean Keys Blvd, Clarkson
John Quigley MLA
Suite 116, Ocean Keys Shopping Centre, Clarkson
Somerly Primary School
15 Somerly Drive, Clarkson
Darch
Ashdale Primary School
51 Ashdale Boulevard, Darch
Girrawheen
Girrawheen Library
6 Patrick Court, Girrawheen
Girrawheen Senior High School
39 Calvert Way, Girrawheen
Girrawheen/Koondoola Senior Citizens
18 Patrick Court, Girrawheen
Margaret Quirk MLA
U2/32 Balgonie Avenue, Girrawheen
Our Lady of Mercy Primary School
55 Hudson Avenue, Girrawheen
Roseworth Primary School
30 Stebbing Way, Girrawheen
Hocking
Hocking Primary School
50 Gungurru Avenue, Hocking
Koondoola
Burbridge School
46 Burbridge Avenue, Koondoola
Landsdale
Carnaby Rise Primary School
Pomodora Avenue, Landsdale
Madeley
Kingsway Shopping Centre
Cnr Hepburn Ave & Wanneroo Road, Madeley
Madeley Primary School
41 Martindale Avenue, Madeley
Marangaroo
Rawlinson Primary School
27 Rawlinson Drive, Marangaroo
Merriwa
Merriwa Primary School
67 Baltimore Parade, Merriwa
Mindarie
Keiki Early Learning Mindarie Keys
1/18 Anchorage Drive, Mindarie
Keiki Early Learning Mindarie Primary
Rothesay Heights, Mindarie
Mindarie Primary School
90 Rothesay Heights, Mindarie
Mindarie Senior College
Cnr Elliston Parade and Anchorage Drive, Mindarie
Peter Moyes Anglican Community College
Elliston Parade, Mindarie
North Butler
John Butler Primary School
2 Halesworth Parade, North Butler
North Yanchep
Yanchep Beach Primary School
100 Lindsay Beach Boulevard, North Yanchep
Quinns Rocks
Quinns Baptist Primary School
Salerno Drive, Quinns Rocks
Quinns Beach Primary School
5 James Cook Avenue, Quinns Rocks
Quinns Rocks Sports Club
17 Tapping Way, Quinns Rocks
Tapping
Pineview Lifestyle Village
48 Ashley Road, Tapping
Two Rocks
Atlantis Beach Baptist College
Breakwater Drive, Two Rocks
Two Rocks Library
Lisford Avenue, Two Rocks
Two Rocks Primary School
51 Resolute Drive, Two Rocks
Wangara
Phoenix Holden
5 Berriman Drive, Wangara
Wanneroo
City of Wanneroo Civic Centre
25 Dundebar Road, Wanneroo
East Wanneroo Primary School
32 High Road, Wanneroo
Sabine Winton MLA
11 Rocca Way, Wanneroo
Wanneroo Library and Cultural Centre
Rocca Way, Wanneroo
Wanneroo Primary School
15 Shaw Road, Wanneroo
Yanchep
Yanchep Lagoon Primary School
15 Primary Road, Yanchep
Yanchep Secondary School
21 Ravensbourne Street, Yanchep