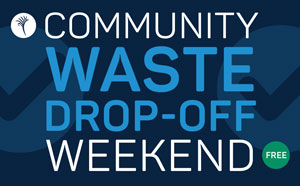 Date: Saturday 25 and Sunday 26 February 2023 // 8am to 4pm
Location: Ashby Operations Centre (north entrance), 1204 Wanneroo Road, Ashby
Cost: FREE
The City of Wanneroo is holding a drop-off weekend for residents, collecting a selection of items that will be reused or recycled.
Is it time to declutter your wardrobe? Are you ready to cull your collection of old obsolete technology? Do you have some old tyres that need to tread the path towards recycling? Are you still inundated with cardboard boxes from Christmas?
We are committed to increasing the recovery of household waste to 67% by 2025, with the drop-off weekend helping us to achieve this target.
Tyres
In partnership with Tyrecycle, the tyres collected at this drop-off weekend will be sorted and reprocessed locally before being turned into a Tyre-Derived Fuel (TDF). A million tyres used as fuel in place of coal reduces carbon dioxide emissions by 19.5%.
Free drop-off, up to a maximum of 4 tyres per household.
4x4, motorcycle and passenger vehicle tyres ONLY. NO commercial tyres.
City of Wanneroo residents only. Residents must show their driver's licence or rates notice in order to drop-off (applies only to the drop-off of tyres).
Clothing
Help your unwanted clothes find a new home. A number of registered charity organisations will be on site to collect your unwanted clothing, with clothing collected at this drop-off weekend on-sold through the charities' retail outlets or sent overseas to people in need.
Only clothing will be accepted, no other textiles please.
E-Waste
Electronic waste or e-waste is one of the fastest growing waste streams in Australia. These products contain precious resources and sometimes hazardous materials that cannot be recovered through your kerbside recycling or domestic waste bins. Items collected will be disassembled by Total Green Recycling, with components made of materials such as steel, copper, aluminium and plastic recycled back into new products.
E-waste items accepted:
Desktop Computers & laptops
iPods & Mobile Phones
Hard Drives, CD & Floppy Drives (computer only)
Computer Server Units & UPS systems
Plotters
Inkjet & Laserjet Printers
LCD, Plasma & CRT Monitors
LCD, Plasma & CRT Televisions
Printers, Scanners, Copiers
Modems and network devices
Keyboards, mice & joysticks
Fax Machines
Circuit boards & other circuitry
Electronic cables and wiring
Cardboard
If you have too much cardboard for your recycling bin, it can be dropped off for recycling.
Polystyrene
Expanded Polystyrene (EPS) – the rigid white packaging commonly surrounding bulky whitegoods or electronic goods – can be dropped off for recycling. It will be recycled into granules which are then used to make other plastic products, diverting it from landfill.
Meat trays, cups, beads or other expanded plastics will NOT be accepted.
What will not be accepted?
The following items can be taken to Tamala Park or Balcatta Recycling Centre. Fees may apply; contact the site for more details.
Cathode Ray Tubes (CRTs) out of casing, smashed or cracked screens.
Whitegoods, such as air conditioners, fridges, freezers, washing machines, vacuum cleaners, microwaves, digital cameras, DVD/VCR/CD players, radios, power tools, audio visual equipment, and any other household electrical items not included on the accepted e-waste list
Any contaminated equipment or other hazardous waste e.g. Smoke Alarms, EPIRBs, car batteries, explosive materials or items.
Furniture (including mattresses and lounges)
More than 4 tyres from each household (types as listed above).
Tamala Park
Marmion Avenue, Mindarie
Tel: 9306 6303
Website: www.mrc.wa.gov.au
Balcatta Recycling Centre
238 Balcatta Road, Balcatta
Tel: 9205 8555
Website: www.stirling.wa.gov.au