Be prepared!
Bushfires and other emergencies are a constant presence in the City of Wanneroo. Click below and follow the steps below to ensure you are as ready as possible
1. Connect with the City's Prepare Together Project and have your say
2. Be aware of your risk, and understand alerts and warnings
Bushfire prone areas
Over 90% of the City of Wanneroo is bushfire prone. Find out if your home is in or near a bushfire prone area by visiting a Map of Bushfire Prone Area (areas highlighted in pink on the map indicate bushfire prone areas - please allow a few minutes for the map to load). Homes at risk may be rural or urban properties that are near bushland or coastal scrub. Find out more about your risk by visiting the DFES Bushfire Overview website.
Fire Danger Ratings
Fire Danger Ratings (FDRs) provide you with daily advice about the level of bushfire threat in your area. Check these often over the hotter, summer months. Fire Danger Rating Information Boards are displayed in the following locations and are updated daily:
Corner Joondalup Drive and Wanneroo Road
Wanneroo Road, south of the Yanchep Beach Road turn-off
Wanneroo Road, Carabooda
Marmion Avenue, Jindalee
Neaves Road, Mariginiup
Old Yanchep Road, Pinjar
Gnangara Road, Landsdale
Countryside Drive, Two Rocks
Bushfire Warning System
As part of the implementation of the Australian Warning System (AWS), bushfire warning symbols and colours changed in Western Australia on Tuesday 14 September 2021.
The Bushfire Warning System provides information on the severity of a bushfire once it has started.
There are three levels of warning. These change to reflect the increasing risk to your life or property, and the decreasing amount of time you have until the fire arrives.
ADVICE - Yellow
A fire has started but there is no immediate threat to lives or homes. Stay alert and watch for signs of a fire. Be aware and keep up to date.
WATCH AND ACT - Orange
A fire is approaching and there is a possible threat to lives or homes. Put your plan into action. If your plan is to leave, make sure you leave early. If your plan is to stay, check all your equipment is ready. Only stay and defend if you are mentally and physically prepared.
EMERGENCY WARNING - RED
An out of control fire is approaching fast and you need to take immediate action to survive. If you haven't prepared your home it is too late. You must seek shelter or leave now if it is safe to do so
Your surroundings could be your best information source. Stay alert to what is happening around you. If you believe you may be in danger, act immediately to stay safe.
Click on the link below to access an AWS factsheet and video:
DFES I Australian Warning System
3. Prepare your home and property
A well prepared property and constructed house is more likely to survive a bushfire than an unprepared one. Firefighers cannot defend every property and are unlikely to defend a poorly prepared property – remember, their lives are at risk too.
Download the Property Preparation Checklist below:
Bushfire Property Preparation checklist
4. Know where to get information before and during a fire
Throughout the hotter months, residents are encouraged to regularly check in to the sources of information below. By doing this, you will become familiar with the information provided, which will build your capacity and understanding to know exactly what to do when an emergency warning directly affects you and your home. The most up to date sources of information before and during a fire are ABC720, Emergency WA and your own personal support networks.
ABC720AM
ABC720 is the official emergency broadcaster in Western Australia, including the City of Wanneroo. As warnings escalate, ABC720 will broadcast them more regularly.
EMERGENCY WA
Emergency WA is a map-based display with the best available emergency information from across the State.
Personal support networks
When the Fire Danger Ratings are severe and above, if you are at home, it is likely you will have the doors closed, blinds down and air-conditioning on. Often, a neighbour, a relative or a friend will be the first person to let you know that there is smoke around or a fire near-by. Talk to your neighbours, family and friends about your emergency plans, get to know your neighbours and the people in your street if you don't already, write down the names of people that may help you in an emergency or that you may choose to help.
5. Have a Bushfire Survival Plan that includes your pets and animals
The best chance of surviving a bushfire or other major emergency is to plan what you would do if something were to come your way. Consider different scenarios like what you would do if you were at home with people visiting, or at work when a fire threatens, or if you have children home alone during the school holidays. Don't forget to include your pets and animals in your emergency planning.
Take 5 minutes now to discuss these simple questions:
When will you know to leave?
Where will you go?
Which way will you go?
Start your plan now: My Bushfire Plan
6. Prepare an Emergency Survival Kit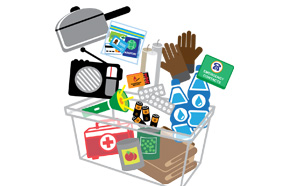 Having an emergency kit is an important step to prepare and protect your household for an emergency such as a bushfire. Keep your Emergency Survival Kit in a storage container in a location that is easy to get to and where the whole family knows about.
Things to include in your kit
Essential items
portable battery operated AM/FM radio
waterproof torch
new spare batteries
first aid kit with manual
toiletries
sunscreen
change of clothes and shoes for everyone
sturdy gloves and face and dust masks
woollen blankets.
Important documents and sentimental items
household emergency plan with emergency contact phone numbers
passport, birth and marriage certificate and wills. Photocopy important documents or save them to a USB and store in your emergency kit
house, life, health and car insurance documents and car license
medicare, pension or personal identification cards and immunisation records.
vaccination details and vet contacts for your pets and animals.
On the day, add
cash, key cards and credit/debit cards
essential medications, prescriptions and dosage
special requirements for infants and children (including a favourite toy and activities)
mobile phone and charger, or phone card
extra car and house keys
important memory sticks or CDs with personal information or sentimental/irreplaceable items.
Food and water
drinking water (at least three litres per person per day for four days
canned food (dried food is a good alternative) to last four days
can opener, cooking gear and eating utensils.
Don't forget to prepare for your pets in your plan
ensure your pet is wearing an identification tag
include in your kit, copies of your pet's vaccination records and vetinary contact details
if you're leaving - take a leash, basket, medication, food and a familiar toy.
For further information on preparing your pets and animals for a bushfire, visit the Animals in Emergencies website.
Having items put aside can increase self-reliance and decrease the stress and panic that can be overwhelming when faced with an emergency. If you do already have an emergency kit, make sure you check it over and ensure everything is up to date and working properly.
For more information:
Visit the Emergency Kits - DFES
Contact DFES Community Engagement on 9395 9816
After a bushfire
Being involved in a bushfire can be a difficult experience to take in and accept at first, but there are people and organisations that can help you.
A number of guides are available providing information to residents recover from the impact of a bushfire.
Accessing your property during and after an emergency
During an emergency, residents in the City of Wanneroo may be evacuated from their homes and not able to return to their properties for several days or even weeks, depending on the severity of the emergency. Further information can be viewed by clicking below.
Accessing your property information
Hazard Management Agencies such as Department of Fire and Emergency Services and WA Police have authority under the Emergency Services Act to prohibit the movement of people, animals and vehicles into, out of or around an emergency area, where an emergency has been declared. Roads and access routes may be closed.
Prior to an evacuation area becoming accessible, emergency services must undertake a risk assessment/recommend a treatment plan relating to four recovery environments:
Social
Built
Economic
Natural
This will involve assessing the safety of roads/buildings, power lines, stormwater drains, trees/waterways as well as many other issues. There may also be other reasons to delay or restrict access to an evacuated area, such as the preservation of a crime scene or as part of a coronial investigation.
Once the hazard has been eliminated, controlled access to the area may be possible.
Restricted Access Permits
A Restricted Access Permit may be issued to residents, business owners, utility companies or other approved persons to enter a 'restricted access area'.
This 'restricted access area' is a designated area within an incident area, which authorised persons can enter for a period of time and for a specific purpose. This will be after the immediate threat has passed.
The Restricted Access Permit allows people to:
Activate their emergency plan;
Collect valuables and/or pets;
Transport various commodities such as milk, water, stock-feed and store supplies;
Tend to livestock; or
Undertake other approved activities.
Restricted Access permits are issued once it has been deemed safe for persons to enter a restricted access area. Once deemed safe, a restricted access permit issuing unit is established in a suitable location, generally in a local community area.
The location of the issuing unit for a specific incident is broadcast on alerts and warnings issued by DFES through Emergency WA.
Further information on Restricted Access Permits can be found on the DFES website.
Returning home after an emergency
Once Emergency Services has completed the necessary risk assessment and treatment plan, safe community access to the affected area, or to parts of it, can be recommended. Residents will be advised as soon as practicable once access to an affected area / properties is possible.
For residents returning home following a bushfire or other major emergency, it can be a daunting experience.
Take some time now, to read about what this might mean to you, your family, your pets and animals and your home: Recovering from a bushfire.