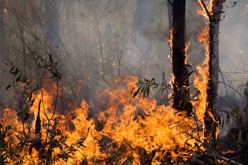 Prescribed bushland burning significantly reduces the amount of ground vegetation (fuel) that acts as a fire hazard during our summer months. Prescribed burning also helps maintain our natural bushland's biodiversity. For more information on why you should do planned burns, and when planned burning takes place, visit the DFES website.
Requesting Brigade to burn off on private property
Use the form below to request a hazard reduction burn by the Bush Fire Brigades.
Please email completed forms to: cesmwanneroo@dfes.wa.gov.au
For any queries contact the Chief Bush Fire Control Officer on 9405 5000.
Bushfire smoke and your health
Smoke from bushfires can exacerbate asthma and other respiratory conditions and can cause a cough, shortness of breath and irritate the eyes, nose and throat.
If there is a prescribed burn in your area, try to minimise your exposure to smoke by:
Staying inside and keeping doors and windows closed
Turning off air-conditioners
People with conditions exacerbated by smoke should take precautions in line with their medical advice for these circumstances
For more information visit the Department of Health website.
Planned prescribed burns 2023
| Suburb | Reserve Name | Address | Progress |
| --- | --- | --- | --- |
| Alkimos | Broadford Park | 15 Santorini Promenade, Alkimos | COMPLETE |
| Alkimos | Windlass Park | 13 Windlass Way, Alkimos | COMPLETE |
| Banksia Grove | Discovery Park | 2k Botanic Avenue, Banksia Grove | COMPLETE |
| Banksia Grove | Celadon Park | 80 Celadon Loop, Banksia Grove | COMPLETE |
| Banksia Grove | Viridian Park | 99 Viridian Drive, Banksia Grove | COMPLETE |
| Butler | Manningtree Park | 250 Camborne Parkway, Butler | |
| Darch | Appleby Park | 37 Appleby Drive, Darch | COMPLETE |
| Girrawheen | Montrose Park | 40 Montrose Avenue, Girrawheen | COMPLETE |
| Koondoola | Koondoola A Reserve | 380 Marangaroo Drive, Koondoola | COMPLETE |
| Landsdale | Thaxter Park | 7 Thaxter Road, Landsdale | COMPLETE |
| Madeley | Susan Park | 11 Susan Road, Madeley | |
| Tapping | Waldburg Park | 2 Waldburg Drive, Tapping | |
| Two Rocks | Cassilda Park | 49 Cassilda Way, Two Rocks | |
| Two Rocks | Whitfield Park | 69f Whitfield Drive, Two Rocks | |
| Wanneroo | Belgrade Park | 92 Belgrade Road, Wanneroo | COMPLETE |
| Wanneroo | Lake Badgerup | 259 Benmuni Road, Wanneroo | COMPLETE |