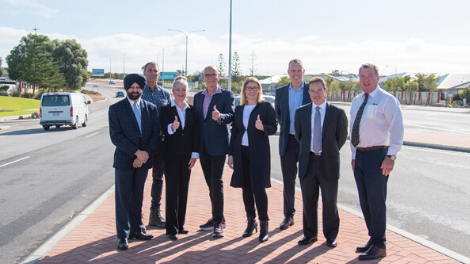 Marmion Avenue duplication works complete
Thursday 9 July 2020
Work on the duplication of Marmion Avenue from Butler to Yanchep is now complete, providing easier access throughout City of Wanneroo's northern corridor.
Converting the 11.5km stretch of Marmion Avenue into a dual carriageway was completed over three phases, continuing from Camborne Parkway in the south to Yanchep Beach Road in the north.
Mayor Roberts was joined on site yesterday by Minster for Transport the Hon. Rita Saffioti MLA and Attorney General, Member for Butler the Hon. John Quigley MLA to mark the completion of construction.
City of Wanneroo Mayor Tracey Roberts said the duplication works broadened in scope during the construction phase.
"I would like to thank the State Government for the $23 million funding dedicated to delivering this project, and to local residents for their patience navigating the roadworks during construction," she said.
"Through close collaboration with Main Roads WA, the Water Corporation, numerous northern corridor developers and other key stakeholders, the City of Wanneroo was able to revise the initial project plan to include a further $6 million of works.
"This included the provision of additional intersections and accommodating the traffic impacts on Marmion Avenue resulting from the forthcoming Mitchell Freeway extension to Romeo Road1 and the extension of the Joondalup Line to Yanchep."
Four new roundabouts – at Impression Drive, Pipidinny Road, Eglinton Drive and Cinnabar Drive – forge links with future developments, such as the planned METRONET train station in Eglinton.
Landscaping works will continue in the coming months, and are scheduled for completion later this year.
"This major infrastructure project will support the growth of suburbs in our City's northern corridor long into the future," Mayor Roberts said.
"Completing these works have futureproofed this stretch of road, and will mitigate further disruption for motorists down the track."
"I'm pleased our Government contributed the $23 million to make this job-creating, congestion-busting project a reality," Transport Minister Rita Saffioti said.
"This is just one of the major projects we have underway in the growing northern suburbs to help ease congestion on our roads.
"We have already started works on the Yanchep Rail Extension and later this year will begin work on the $215 million Mitchell Freeway Extension from Hester Avenue to Romeo Road.
"It's major projects like these that will help our economy recover post COVID-19 whilst keeping Western Australians in jobs."